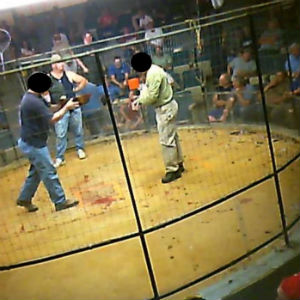 Attorney General Mark Herring accepted the Humane Law Enforcement Award from the Humane Society of the United States (HSUS) for his office's role in shutting down and successfully prosecuting a multi-state cockfighting ring in Wise County, Virginia and Kentucky.
Following a May 2014 raid, the operators of the "Big Blue" cockfighting ring pled guilty to several crimes including conspiracy to operate an illegal gambling enterprise, illegally conducting cockfights, and drug distribution. Operators were sentenced to prison terms ranging from 6 – 18 months and forfeited cash and assets connected to the ring.
Other agencies receiving Humane Law Enforcement Awards for their role in the successful investigation and prosecution include the United States Attorney for the Western District of Virginia, U.S. Department of Agriculture, Virginia Department of Alcoholic Beverage Control and Spotsylvania County Sheriff's Department. Humane Law Enforcement Awards are presented annually to authorities who have taken an exemplary stand against animal illegal animal cruelty and fighting.
"I'm honored to accept the Humane Law Enforcement Award on behalf of the hardworking women and men of the Office of Attorney General," said Attorney General Herring. "Abusing and killing animals for sport and profit is a heinous crime that often coincides with other crimes like distribution of illegal drugs and alcohol, gambling, and assaults, and we will continue to tackle these problems head-on. I'd like to say a huge thank you to all the local, state, and federal partners that helped bring down Big Blue, especially Michelle Welch, the head of my Animal Law unit and one of the most decorated prosecutors in her field. The contributions of dozens of law enforcement professionals from these agencies were key to shutting down this sophisticated criminal enterprise."
Last month, Attorney General Herring announced the creation of the nation's Animal Law Unit  to serve as a resource for local law enforcement and state agencies on issues involving animal welfare and animal fighting or abuse. His office has also assisted in enforcement actions, such as the Big Blue case, and hosted a statewide law enforcement training on animal fighting and animal cruelty.
The operators of the Big Blue cockfighting ring were successfully prosecuted by Assistant United States Attorney Randy Ramseyer and Virginia Senior Assistant Attorney General/ Special Assistant United States  Attorney Michelle Welch. This followed  a lengthy and extensive joint undercover operation by numerous Virginia and Federal authorities including:
Virginia Alcohol Beverage Control Bureau of Law Enforcement
Spotsylvania County  Sheriff's Office
the United States Department of Agriculture – Office of Inspector  General
Virginia Animal Fighting Task Force
Virginia State Police Tactical Team
Southwest Virginia Regional Task Force
Botetourt County Commonwealth's Attorney's Office
Wise County, Virginia Sheriff's Office and Commonwealth's Attorney's Office
Virginia State Veterinarian's Office
United States Homeland Security Investigations
Kentucky State Police
United States Attorney's Office for the Eastern District of Kentucky
American Society for the Prevention of Cruelty to Animals.