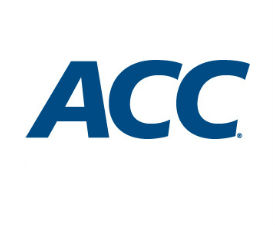 Duke led Atlantic Coast Conference football honors for Week 7, as Blue Devil redshirt junior quarterback Anthony Boone was named the ACC Offensive Back of the Week and redshirt senior tackle Perry Simmons was recognized as the ACC Offensive Lineman of the Week.
Boone, playing in his first game since being sidelined by a collarbone injury on Sept. 7, completed 31 of 38 passes for 295 yards and three touchdowns in the Blue Devils' 35-7 win over Navy. In addition to providing protection for Boone up front, Simmons led the blocking for a balanced Duke attack that amassed 435 total yards, scored five touchdowns and dominated time of possession.
Clemson end Vic Beasley was honored for the third time this season as the ACC Defensive Lineman of the Week for his play in the third-ranked Tigers 24-14 win over Boston College. Beasley also received the honor last week and was named the ACC Co-Defensive Lineman of the Week on Sept. 23.
Other Week 7 honorees are Boston College wideout Alex Amidon as ACC Receiver of the Week, Maryland's L.A. Goree as ACC Linebacker of the Week, Syracuse free safety Durell Eskridge as ACC Defensive Back of the Week, Virginia Tech placekicker Cody Journell as ACC Specialist of the Week, and NC State cornerback Jack Tocho as ACC Rookie of the Week.
OFFENSIVE BACK – Anthony Boone, Duke, Jr.-R, QB, 6-0, 230, Weddington, N.C. After missing the previous three games due to a fractured collarbone suffered in Week 2 at Memphis, Boone led Duke to a 35-7 win over Navy by completing 31 of 38 (.816) passes for 295 yards with three touchdowns and no interceptions. The completion percentage marks the sixth-highest single-game mark in Duke history. Boone set career single-game highs for completions, attempts and passing yardage, even though he did not receive the starting nod until 30 minutes prior to kickoff, when Brandon Connette was scratched due to an ankle injury. Boone directed a Duke offense that amassed 435 yards (301 passing, 134 rushing) and 24 first downs (10 rushing, 14 passing) while converting 10 of 16 third downs and holding possession for 34:49 of the game. The performance came against a Navy defense that entered the game ranked 31st among NCAA FBS teams in passing defense (205.5 ypg) and 22nd in scoring defense (17.8 ppg).
OFFENSIVE LINEMAN – Perry Simmons, Duke, Sr.-R, OT, 6-5, 300, Raleigh, N.C.
Simmons posted a team-best offensive line grade of 83 percent in the Blue Devils' win over Navy and also led the line in "intimidation blocks." Simmons helped protect QB Anthony Boone, the ACC Offensive Player of the Week, during his career passing day and also opened holes for a rushing attack that featured four running backs that averaged over five yards per carry and scored a pair of rushing touchdowns. Duke's offense held the ball for nearly 35 minutes on Saturday and did not commit a turnover.
RECEIVER – Alex Amidon, Boston College, Sr., WR, 6-0, 182, Greenfield, Mass.
Amidon caught six passes for a game-high 121 yards and one touchdown – a career-long 69 yard reception in the third quarter, in Boston College's 24-14 loss at No. 3 Clemson. It marked his third 100-plus yard receiving effort of the season and the school-record 10th of his 39-game collegiate career. In the last two seasons, Amidon has caught 14 passes for 314 yards and three touchdowns against the nationally-ranked Tigers. Amidon, who also registered two rushing attempts for 12 yards, finished Saturday's game with a game-high 133 all-purpose yards.  Amidon previously surpassed former Eagle record holders Rich Gunnell (2006-09) and Brian Brennan (1980-83), who each recorded eight 100-plus yard receiving games in their respective careers.
DEFENSIVE LINEMAN – Vic Beasley, Clemson, Jr-R, DE, 6-3, 225, Adairsville, Ga.
Beasley became the first defensive player to win the Leather Helmet Award presented for the seventh year by the Boston College Girdiron Club to the Most Valuable Player of the winning school in the Clemson-BC game. Beasley was named ACC Defensive Player of the Week by Athlon as well for his performance in the Tigers' 24-14 win. Beasley scored the first touchdown of his career on a 13-yard fumble return in the fourth period that gave Clemson a 10-point lead.  He also had a sack, two tackles for loss, a pass deflection and five total tackles as he helped hold Boston College to just 94 yards rushing.
LINEBACKER – L.A. Goree, Maryland, Jr-R., LB, 6-2, 240, Bowie, Md.
Goree tallied a career-high and Maryland season-high 15 tackles in Saturday's 27-26 ACC win over Virginia, including a season-high nine solo tackles, one for a loss of two yards. Goree's previous career best of 14 tackles came at North Carolina on Nov. 24, 2012.
.
DEFENSIVE BACK – Durell Eskridge, Syracuse, Jr., FS, 6-3, 202, Miami, Fla.
Eskridge recorded a career-high 13 tackles (seven solo and six assists, both personal bests) in a 24-10 ACC road win at NC State. He stopped one potential scoring drive with an interception at the Syracuse 14-yard line and returned it 32 yards. He also assisted on a tackle for loss on third-and-2 that forced a punt which started the Orange's first scoring drive of the game. Eskridge later made another stop on third down to force a punt that led to SU's go-ahead touchdown drive in the middle of the fourth quarter. He leads the Syracuse defense in total tackles with 41 on the season, 24 solo.
SPECIALIST – Cody Journell, Virginia Tech, Sr.-R, PK, 6-0, 194, Ripplemead, Va.
Journell paced the Hokies with 13 points in Saturday's 19-9 win over ACC Coastal Division opponent Pitt while kicking a career-high four field goals. Journell opened the game with a career-long 48-yard field goal and later added successful kicks of 37, 42 and 23 yards.
ROOKIE – Jack Tocho, NC State, Fr., CB, 6-1, 195, Charlotte, N.C.
The first Wolfpack rookie to start a game on defense this season, Tocho got the nod at corner and played 24 snaps before leaving with an injury.  However, in those 24 snaps, Tocho picked off two passes, returning one 26 yards and the other 24.  He also broke up another pass and had three tackles. Tocho's two interceptions were one shy of the NC State single-game record.