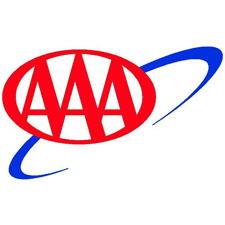 Just shy of 1.5 million Virginian's are expected to travel for the 2018 Thanksgiving holiday, the highest number since 2007 and a 4.8% increase over last year. That means close to 69 thousand more travelers than last year are projected to venture 50 miles or more to celebrate in Virginia.
Virginia travelers will join the more than 54 million projected travelers nationwide, who will journey 50 miles or more away from home between Wednesday, November 21 and Sunday, November 25.
"Consumers across the country have a lot to be thankful for this holiday season due to overall higher wages, more disposable income and rising levels of household wealth," said Martha Mitchell Meade, Manager Public and Government Affairs for AAA. "Virginians are celebrating positive economic trends and the holiday season by traveling in large numbers for a Thanksgiving getaway, building on a positive year for the travel industry."
Busy roadways in the commonwealth and the nation are predicted to result in travel times of up to four times longer than average in some of the most congested cities in the country according to INRIX, a global mobility analytics company,
By the Numbers: 2018 Thanksgiving Holiday Travel Forecast
Automobiles:

Nationwide: The vast majority of travelers – 48.5 million – will hit the road this Thanksgiving, nearly 5 percent more than last year.
Virginia: Nearly 1.4 million will be hitting the highways, an increase of close to 64 thousand more than in 2017.

Planes: 

Nationwide: The largest growth in holiday travel is by air, at 5.4 percent, with 4.27 million travelers.
Virginia: In the commonwealth, 107 thousand, 4.8% more than last year will hit the airways.
Drivers Beware: Thanksgiving's Terrible Traffic
Based on historical and recent travel trends, INRIX, in collaboration with AAA, predicts drivers will experience the greatest amount of congestion Thanksgiving week during the early evening commute period, with travel times starting to increase on Monday. Drivers in San Francisco, New York City and Boston will see the largest delays – nearly quadruple normal drive times.
"Thanksgiving is one of the busiest holidays for road trips, and this year will be no different," says Trevor Reed, transportation analyst at INRIX. "Knowing when and where congestion will build can help drivers avoid the stress of sitting in traffic. Our advice to drivers is to avoid commuting times in major cities altogether or plan alternative routes."
In most cases, the best days to travel will be on Thanksgiving Day, Friday or Saturday. Drivers should expect increased travel times on Sunday as most holiday travelers will be making their way home after the long weekend.