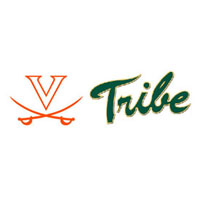 The No. 6 UVA field hockey team opened the 2014 campaign on Friday (Aug. 29) with a 9-0 victory at William & Mary.
Virginia outshot William & Mary, 25-1. Early in the second half, senior goalkeeper Jenny Johnstone (Paisley, Scotland) made a save on the Tribe's lone shot of the game.
Freshman Tara Vittese (Cherry Hill, N.J.) contributed four assists in her collegiate debut. Fellow freshman Emilie van Zinnicq Bergmann (Dordrecht, The Netherlands) scored the first two goals of her collegiate career. Freshman Liz Stern-Green (Hummelstown, Pa.) also scored a goal in her Cavalier debut. Sophomore Lucy Hyams (Whitstable, England) scored two goals with an assist.
"The team was prepared to play and they went out there and performed well against a very talented William & Mary team," said Virginia head coach Michele Madison. "In addition to the scoring, our defense was also being aggressive, trying to read the outlets and did a good job of making tackles outside the circle. I am very proud of this win because it was a total team effort and that is how we want it to be. Now, we are looking forward to the challenge of penn state on Sunday."
Sophomore Riley Tata (Virginia Beach, Va.) began the offensive onslaught, tapping in a long pass from Hyams six minutes into the game. Hyams scored the first of her two goals off a penalty corner 20 minutes into the game. Five minutes later, Tata scored her second goal, picking up a deflection off the Tribe goalie's pads after a pair of shots by junior Taylor Brown (Charlottesville, Va.), giving UVa a 3-0 lead. With five minutes remaining in the first half, van Zinnicq Bergmann scored the first of her two goals, taking a quick shot after receiving a feed from Vittese.
Four minutes into the second half, sophomore Caleigh Foust (Bryn Mawr, Pa.) increased the Cavalier lead to five by taking a pass from Vittese, dribbling twice and then taking a shot into the far corner of the net. Four minutes later, Vittese set up a van Zinnicq Bergmann by dribbling into the circle, zipping a quick pass to the striker who found the back side of the goal. Brown was perfectly positioned in front of the net to tip in a shot from Vittese off a penalty corner with just over ten minutes left in the game to make it 7-0. Sophomore Katie Kelly (Phoenixville, Pa.) picked up a ball in a scrum inside the circle, passing to Stern-Green in front of the net, giving UVa an 8-0 lead. Hyams scored the final goal of the game, dribbling into the circle and firing off a shot in the final five minutes of the contest.
Virginia will remain on the road, heading to University Park, Pennsylvania, to face No. 8 penn state (1-0), the first of three-straight ranked opponents, on Sunday, Aug. 31 at 12 p.m. The Cavaliers will play their third-straight road contest on Thursday, Sept. 4 when they face No. 20 Iowa in Iowa City, before returning to Charlottesville for their Sunday, Sept. 7 home opener against No. 7 Princeton at 11:30 a.m. The Princeton game is one of four contests during the regular season that will be streamed online as part of the Cavaliers Live subscription package through VirginiaSports.com.