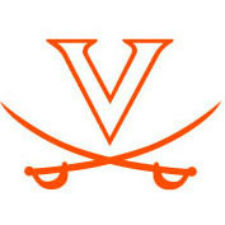 The third-ranked UVA women's soccer team capped a undefeated season-opening homestand Sunday with a 5-0 victory over Villanova at Klöckner Stadium. The Cavaliers (3-0) posted their third consecutive shutout victory to open the season, while the Wildcats fell to 1-2 with the loss.
Junior forwards Makenzy Doniak (Chino Hills, Calif.) and Brittany Ratcliffe (Williamstown, N.J.) led Virginia offensively by combining for three second-half goals, two by Doniak and one by Ratcliffe. Junior Kaili Torres (Fleming Island, Fla.) and first-year Veronica Latsko (Venetia, Pa.) also scored for the Cavaliers, who have outscored opponents 12-0 this season.
"We were able to learn some more about our team today," said head coach Steve Swanson. "This was the first time we played on Sunday after a Friday game. We need to get used to that, especially in these hot conditions because that is what we will see next week in Alabama. We have been looking at different lineups and different roles for each player. At times we showed our quality today, but we still need to work on doing that consistently."
The Cavaliers took the lead with a pair of goals midway through the first half. Torres opened the scoring in the 27th minute as she tapped a through ball from Alexis Shaffer (Cary, N.C.) into the net for her second goal of the season. Three minutes later a pair of first-years teamed up to double the lead. Latsko took a pass from Olivia Hazelrigg (Rolling Hills, Calif.), cut inside the box and fired a shot that the keeper slowed but couldn't keep from dribbling over the line for Latsko's first collegiate goal.
In the second half, Doniak and Ratcliffe teamed up for three goals in a 15-minute span. Less than three minutes after halftime, Doniak made the score 3-0 as she blasted a Ratcliffe through ball just under the crossbar for her second goal of the season. Her third goal of the year came in the 56th minute as she scored on a breakaway, set up by Ratcliffe. Doniak returned the favor in the 63rd minute when her pass set up a breakaway for Ratcliffe, who scored her third goal of the season.
The two goals for Doniak moved her into the top 10 on Virginia's career goal scoring list. With 33 career goals, she currently sits in a ninth-place tie with Lori Lindsey (1998-2001).
Overall, Virginia outshot Villanova 27-0 and had a 12-0 corner kick advantage. It marked the first time the Cavaliers had held an opponent without a shot since Sept. 4, 2011 against Drexel. Sophomore Morgan Stearns (San Antonio, Texas) played the whole 90 minutes in goal to record her 10th career shutout. Wildcat keeper Emma Meyer made nine saves in defeat.
Virginia opens its road schedule next week as it plays at Alabama Friday night. Game time in Tuscaloosa is 8 p.m. ET (7 p.m. CT). The match will be broadcast online on SEC Network Plus, available through WatchESPN. Cable and satellite subscribers of the SEC Network can log-on to watch SEC Network Plus events on ESPN3.com and the WatchESPN.