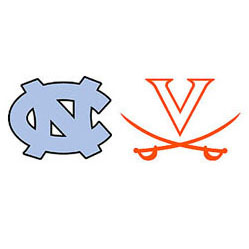 An eighth-inning Derek Fisher RBI single broke a 2-2 tie to give third-ranked UVA a narrow 3-2 win over North Carolina on Friday night on Day 4 of the 2014 ACC Baseball Championships.
Earlier in the day, Maryland defeated #5 Florida State, 5-3, to give the Terps their second win in two days in the ACC Tournament. WIth Virginia's win over North Carolina, Maryland will represent the pool including the four teams in Sunday's ACC Championship Game.
For Virginia, which knew before the start of play that it would not have a chance to play on Sunday, the game was still about much more than pride. The Cavs (44-12) had come in having lost three of their last four, including a 7-6 loss to Maryland in its tourney opener on Thursday. This one was not easy.
UVA got on the board first in the fourth when Nick Howard scored on a two-out throwing error by London Lassiter. VIrginia tacked on another run in the seventh aided by another UNC miscue that the 'Hoos translated into a run on a suicide-squeeze RBI by Nate Irving.
Carolina (33-25) tied it in the bottom of the seventh on a two-run homer by Wood Myers off reliever Whit Mayberry to right field.
After Fisher's RBI knock gave Virginia the lead in the eighth, the Cavs just missed a chance to extend the lead in the ninth. With two outs and runners on the corners, designated hitter Nick Howard rode a 3-2 fastball to the fence in right field, and was robbed of extra bases and a possible three-run homer on a highlight-reel catch by Tyler Ramirez.
Carolina threatened in the ninth, getting a runner into scoring position with one out before Howard closed out the game to record his 18th save.
Both starting pitchers put in yeoman's efforts. UVA starter Brandon Waddell pitched five scoreless innings, striking out seven while giving up six hits and walking two. UNC starter Benton Moss pitched into the seventh, giving up a pair of unearned runs on four hits, striking out eight and walking none.
Whit Mayberry (6-1) picked up the win in relief, giving up two runs, one earned, on two hits in two and two-thirds innings, striking out three and walking one.
Virginia plays Florida State at 7 p.m. Saturday in the last game of pool play at the 2014 ACC Baseball Championships