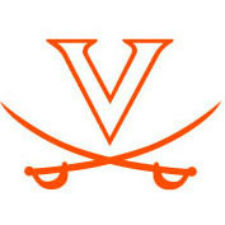 The top-ranked UVa. baseball team cranked four home runs in a 13-0 defeat of Richmond Wednesday evening at Davenport Field. The Cavaliers (35-7) finished with 13 hits while four Cavalier pitchers combined on a two-hitter in UVa's seventh shutout of the season.
Joe McCarthy (So., Scranton, Pa.) led the offensive onslaught, going 2-for-3 with a grand slam and career-high five RBI. Robbie Coman (So., Lake Worth, Fla.), Derek Fisher (Jr., Rexmont, Pa.) and Mike Papi (Jr., Tunkhannock, Pa.) also homered for Virginia, which had four different players homer in the same game for the first time since April 5, 2005. Papi also scored three runs.
Alec Bettinger (Fr., Woodbridge, Va.) struck out a career-high 11 batters over six innings to earn the win and improve to 5-0. He gave up just one hit and one walk in a dominating effort. Kevin Doherty (So., Laytonsville, Md.), Cameron Tekker (So., Waxhaw, N.C.) and Austin Young (Sr., Mechanicsville, Va.) combined to finish off the shutout.
Richmond starter Robbie Baker (1-1) took the loss for the Spiders (15-22-1) after giving up six earned runs, five hits and three walks over 2 2/3 innings.
After going hitless in the first two innings, Virginia exploded for six runs and five hits in the third inning while sending 11 batters to the plate. Coman led off the inning with his first career home run, a blast to left field. UVa then loaded the bases with one out. McCarthy lifted a high drive to right field which took off in the stiff breeze blowing out to right, carrying out for a grand slam. It was McCarthy's fourth home run of the year. One out later Fisher homered for the second night in a row, a solo shot into the right-field bleachers.
The Cavaliers added a run in the fourth inning, as Papi walked with two outs, advanced on a wild pitch and scored on a McCarthy bloop single to right. Papi then hit a two-run blast to right in the sixth inning, his team-leading seventh home run of the year.
UVa posted four more runs in the eighth inning. With two outs, freshman Tyler Allen (Powhatan, Va.) singled to right-center with the bases loaded, scoring two runs on his first college hit. Fisher followed with an RBI single before pinch hitter Nate Irving (Jr., Yonkers, N.Y.) blooped a double to right to bring Allen around with the Cavaliers' 13th run.
Virginia returns to ACC play this weekend with a showdown at No. 4 Florida State. The series begins at 6 p.m. Friday and continues at 6 p.m. Saturday and 1 p.m. Sunday. All three games will air online on ESPN3.