Gov. Northam recognizes Outstanding Faculty Award recipients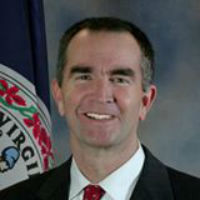 Gov. Ralph Northam recognized 12 Virginia educators as recipients of the 32nd annual Outstanding Faculty Award for excellence in teaching, research, and public service. The annual Outstanding Faculty Award program is administered by the State Council of Higher Education for Virginia (SCHEV) and sponsored by Dominion Energy.
"These outstanding educators have devoted their lives to research and teaching." said Governor Northam. "Each has a proven track record of academic excellence and giving back to their communities. I am pleased to support these wonderful Virginia teachers and it is my privilege to recognize each of them with the Outstanding Faculty Award."
The recipients, all faculty members from colleges and universities across the Commonwealth, were honored today during an awards ceremony at the Jefferson Hotel in Richmond.
"The 12 educators that we are recognizing play a pivotal role in the lives and successes of the people they teach and inspire," said Secretary of Education Atif Qarni. "With this award we thank them for their service to students, to their institutions, and to the Commonwealth."
"We are fortunate that Virginia is home to one of the world's great systems of higher education," said Peter Blake, director of SCHEV. "The Outstanding Faculty Awards recognize faculty members who have dedicated their lives to research, teaching, and mentorship. Their work improves the lives of everyone in the Commonwealth."
The awards are being made through a $75,000 grant from the Dominion Energy Charitable Foundation, the philanthropic arm of Dominion Energy and the sponsor of the Outstanding Faculty Awards for the 14th year.
"Dominion Energy is pleased to partner with SCHEV once again to honor Virginia's outstanding educators," said Hunter A. Applewhite, president of the Dominion Energy Charitable Foundation. "Every year, I am impressed and humbled by the dedication shown by these teachers and researchers to guide and inspire our young people to excel in the classroom and in life."
Awards background, biographies and photos of the recipients are available at www.schev.edu/OutstandingFaculty.
2018 Virginia Outstanding Faculty Award recipients
Supriyo Bandyopadhyay is commonwealth professor of electrical and computer engineering at Virginia Commonwealth University where he has worked for 17 years as director of the Quantum Device Laboratory. Bandyopadhyay was named Virginia's Outstanding Scientist by Governor Terry McAuliffe in 2016.
Frederic P. Bemak has taught at George Mason University for 17 years and is a professor of counseling and development and founder and director of the Diversity Research and Action Consortium. Bemak's work emphasizes cross-cultural psychology and counseling through a human-rights perspective, specializing in immigrants and refugees, post-disaster mental health, vulnerable youth and families, and equity issues in education.
Deborah Bronk is the Moses D. Nunnally distinguished professor of marine science and the chair of the Physical Sciences Department at the Virginia Institute of Marine Science, where she spent the last 17 years. Bronk is a passionate instructor and a rigorous but caring mentor. As a researcher, she is one of the world's foremost authorities on nitrogen biogeochemistry in the ocean.
Helen Crompton (Rising Star) has been a tenure-track faculty member at Old Dominion University (ODU) in the department of Teaching & Learning since 2013. Crompton's research is focused on educational technology, particularly on the use of mobile devices (e.g. cell phones, tablets) for learning in STEM.
Steven Emmanuel is professor of philosophy at Virginia Wesleyan University, where he has taught since 1992. His research and teaching interests lie mainly in the history of philosophy and ethics, with a special focus on comparative moral and religious thought. He has worked extensively on the 19th-century Danish thinker Søren Kierkegaard, and in more recent years has immersed himself in the study of Asian philosophical traditions.
Mark L. Gabriele is a professor and director of anatomy in the Department of Biology at James Madison University, which he joined in 2001. His scholarship focuses on neural development, brain maps and their capacity for change. His work has widespread applications to neuroplasticity, recovery, and regeneration.
Elizabeth C. Hirschman is the Hill Richmond Smiddy professor of business at the University of Virginia's College at Wise. Her scholarship spans more than 30 years and across fields from marketing and communications to economics and semiotics. She is a strong advocate of "open-borders" academic disciplines and believes that cross-disciplinary study is vital to intellectual growth.
Jennifer M. Martin serves as professor of biology at Thomas Nelson Community College in Hampton. Since joining the faculty in 2005, she has taught primarily in the fields of biology and oceanography. As a marine scientist and ichthyologist specializing in the taxonomy and evolution of oceanic fishes, she integrates her professional experiences as an international researcher into her teaching to engage students in active, inquiry-based learning opportunities, locally and abroad.
Thomas E. Moran is an associate professor in the department of kinesiology at James Madison University. His area of expertise is adapted physical education, motor development and motor learning. Moran's passion stems from his personal experiences as an individual with cerebral palsy. Moran is the founder and executive director of Empowerment3, the Center for Physical Activity and Wellness for Underserved Youth. Moran and his students run a variety of physical activity and nutrition-mentoring programs for children, adolescents and adults with disabilities across the Shenandoah Valley.
Carol Parish is a professor of chemistry at the University of Richmond. She is a theoretical and computational chemist who teaches at all levels of the undergraduate curriculum and mentors a large number of undergraduates in outcome-oriented research. She is the program coordinator of the Integrated and Inclusive Science program at the University of Richmond; her research program investigates the fundamental molecular nature of a wide range of physical phenomena — from the accurate characterization of diradical excited states to the dynamics of motor proteins.
Patricia Parker is an assistant professor of mathematics at Germanna Community College. She has taught in Virginia for 27 years at the middle school, high school and community college levels. Since 2015, Parker has served the Virginia Community College System as the VCCS mathematics pathways project manager, as the developmental mathematics chair and as a mathematics instructor. She has worked on Virginia's 2012 redesign of developmental mathematics and the current Mathematics Pathways Project. She also serves as a Dana Center Mathematics Pathways Facilitator supporting this work at the national level.
Jaime Settle (Rising Star) is an assistant professor of government at the College of William & Mary, where she has taught for six years. Settle co-directs the Social Science Research Methods Center, and founded and directs the Social Networks and Political Psychology, or SNaPP, Lab. Settle is an accomplished researcher in the fields of political psychology and communication, where she specializes in understanding Americans' day-to-day experiences with politics in both face-to-face and online contexts.