Baby Shark Live! to make splash with stop at JPJ in Charlottesville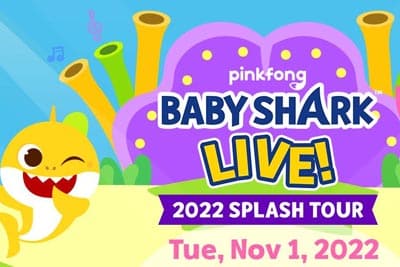 Pinkfong and Round Room Live are proud to announce that Baby Shark Live!, the fully immersive concert experience, will make a stop at John Paul Jones Arena in Charlottesville on Tuesday, Nov. 1, at 6 p.m.
"We're excited to start 2022 on a great note for families by bringing Baby Shark Live!: 2022 Splash Tour to stages all over the country," says Stephen Shaw, tour producer and co-president of Round Room Live. "We're proud to continue to provide memorable, unique experiences that all family members can share in together while also upholding our priority to keep everyone safe by working with venue and health officials in every city."
The inaugural tour of Baby Shark Live! launched in the fall of 2019. The live show is based on Pinkfong's viral sensation, Baby Shark. With the iconic songs and dances, fans of all ages will delight as Baby Shark joins up with his friend Pinkfong to take an adventure into the sea, singing and dancing through new and classic songs including Five Little Monkeys, Wheels on the Bus, Jungle Boogie, Monkey Banana and of course, Baby Shark.
Tickets are on sale now at https://tinyurl.com/babyshark-2022 or the arena box office.