Warner, Peters call on Trump administration to appoint chief science, technology advisor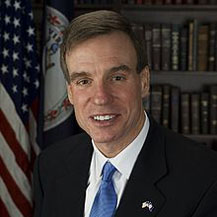 U.S. Sens. Mark Warner (D-VA) and Gary Peters (D-MI), co-chairs of the bipartisan Senate Science Forum, called on the White House to appoint a Director of the Office of Science and Technology Policy (OSTP), a position that has been vacant for more than a year. In a letter addressed to President Trump, the Senators highlighted the important role this individual plays in advising presidents on science and technology issues.
"As co-chairs of the Senate Science Forum, we know legislators from both parties are eager to work with an OSTP Director who has the administrative and legal authority to lead broad-based federal science and technology efforts and the credibility and stature to bring partners in industry and academia to the table. We need such a partner to maintain America's position at the forefront of science and technology innovation," said the Senators.
Established by Congress in 1976, OSTP, under its Director, has provided advice to seven presidents on the scientific and technological aspects of important national issues. The Director coordinates federal efforts in science and technology and analyzes major policies, plans, and programs across government agencies.
"The Director position has been vacant for over a year, and we believe it is critical to appoint a well-qualified individual, with a background in science or engineering, to this role as soon as possible," added the Senators.