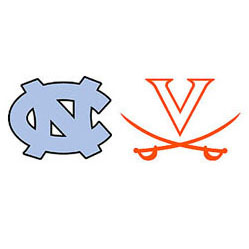 The Virginia women's basketball team (13-7, 6-1 ACC) hosts North Carolina (14-6, 4-3 ACC) on Thursday, Jan. 25 at 7 p.m. at John Paul Jones Arena in Charlottesville, Va.
All of the 2017-18 Virginia women's basketball games – home and away – are available locally on the radio on NewsRadio 1070 AM and 98.9 FM WINA. The game will also stream live online as an ACC Network Extra contest.
The Cavaliers come into the week in a four-way tie for first place in the ACC with Louisville, Notre Dame and Florida State. Virginia's 6-1 start to conference play is its best since starting the 1999-00 season at 9-1 in ACC games. UVA is receiving votes in both the Associated Press and USA Today Coaches' polls and have moved up to No. 37 in the RPI rankings (as of 1/23/18).
Virginia leads the ACC in scoring defense and field goal percentage defense in conference games, limiting opponents to 54.4 points per game and 35.8 percent shooting efficiency.
The Cavaliers had a bye last Thursday before topping Virginia Tech, 61-52, on Sunday. Senior guard Aliyah Huland El (Randolph, N.J.) and sophomore guard Dominique Toussaint (Staten Island, N.Y.) each scored 14 points in the win over the Hokies. Huland El has scored 14 points in each of the last two games and has scored in double figures in five of the last seven games. Huland El is averaging a career-best 10.4 points per game this season. Toussaint continues to lead the team in scoring, averaging 11.4 points per game, scoring in double figures in four of the last five games, as well as continuing to lead the ACC in assist-to-turnover ratio in conference contests with 32 assists to 15 turnovers (2.1 ratio).
Sophomore guard Jocelyn Willoughby (East Orange, N.J.) scored 10 points with eight rebounds against Virginia Tech. Willoughby has scored in double figures in each of the last five games, averaging 13.0 points per game in that span. In the last three games, Willoughby is averaging 9.7 rebounds per game. In the last four games, Willoughby is shooting 54.2 percent from the field overall (19-of-35) and is 7-of-12 (58.3 percent) from three-point range.
Senior forward Lauren Moses (Mount Holly, N.J.) was 5-of-7 shooting against Virginia Tech, scoring 11 points with seven rebounds in 20 minutes on the court.
Both Huland El and Moses are closing in on 1,000 career points. Huland El comes into the game with 952 career points and Moses has 959.
Last Sunday, North Carolina overcame a 19-point deficit to grab a thrilling 92-86 victory over the Blue Devils. Paris Kea scored a career-high 36 points in the game. Kea leads the team, averaging 19.7 points per game. Jamie Cherry is scoring 16.4 points per game and Janelle Bailey is averaging 15.2.
North Carolina leads the all-time series 50-33. Virginia has won three times in the last 25 meetings (dating back to 2002), including a 72-68 victory in 2015-16 at John Paul Jones Arena. Last year, the Cavaliers fell 67-58 to North Carolina at Carmichael Arena in Chapel Hill.
The Cavaliers will finish the week with a game on Sunday, January 28 at Georgia Tech (13-7, 2-5 ACC) at 1 p.m. The Cavaliers will be back home next Thursday, February 1, hosting No. 4 Louisville (20-1, 6-1 ACC) at 7 p.m. at John Paul Jones Arena.
Single-game ticket prices for all home games are $10 for Reserved seating, $8 for adult General Admission and $6 for youth (18 & under), senior (60 & over) and UVA faculty/staff General Admission. Fans may purchase home game tickets through the Virginia Athletics Ticket Office online at VirginiaSports.com, by phone and in person. The Virginia Athletics Ticket Office is located in Bryant Hall at Scott Stadium and open Monday through Friday from 9 a.m. until 5 p.m. Telephone purchases can be made by calling 1-800-542-UVA1 (8821) or locally at 434-924-UVA1 (8821).