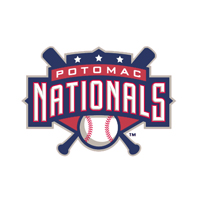 The Potomac Nationals (36-30, 19-13) lost their seven-inning battle with the Winston-Salem Dash (29-37, 13-19) 4-2 on Friday night. Game Two of the scheduled doubleheader was postponed.
The seven-inning contest concluded game one of what was supposed to be a Friday doubleheader. Game Two will be played on Saturday night where another doubleheader will take place with first pitch of Game One coming at 5:30 ET.
RHP Miles Jaye (W, 3-0) hurled a quality start in six innings allowing two runs on nine hits. RHP Braulio Ortiz (Sv, 3) came in for the save in the seventh and final inning.
The P-Nats plated their two runs in the first two innings. 1B Shawn Pleffner collected his 21st RBI in the first when he drove in LF Jeff Kobernus who was making his fifth rehab start with the team. After a pair of singles from DH Mike McQuillan and 3B Justin Miller, RF Estarlin Martinez knocked McQuillan home with a liner to left.
2B Joey DeMichele and CF Keenyn Walker were the stars of the game for Winston-Salem. DeMichele went 3-for-3 in the game and scored three of the four Dash runs. C Mike Marjama plated DeMichele in the first inning with a groundout. Walker's double in the fourth off P-Nats starter RHP John Simms (L, 1-4) scored a pair, and he brought DeMichele home again in the sixth with a single.
Dash LF Courtney Hawkins left the game in the third inning after being clipped on the hand by a pitch that also got a piece of his bat.
Saturday night is Jayson Werth Bobblebeard night as Beard-a-Palooza continues. The first 1,000 fans to burst through the gates at 5:00 PM will receive one.