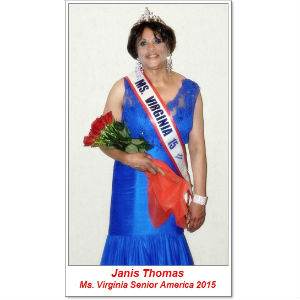 Janis Thomas, of Winchester was crowned Ms. Virginia Senior America 2015 at the coronation ceremony in Staunton on Wednesday.
Thomas, a life-long dancer, said she is thrilled to bring her late-blooming dreams to the forefront as Ms. Virginia Senior America. Thomas will compete for the 2015 Ms. Senior America title this fall in Atlantic City, N.J.
Thomas has a master's degree from West Virginia University and was a career elementary guidance counselor prior to becoming an independent consultant with a telecommunications company. She is an inventor of a popular Marco Company board game, and proud of her creation and continued management of a popular school year-end showcase of performances and her ongoing charity work. Janis is following in her daughter's pageant queen footsteps as her daughter was the 2013 Ms. District of Columbia and placed in the top ten later that year at the Ms. United States pageant.