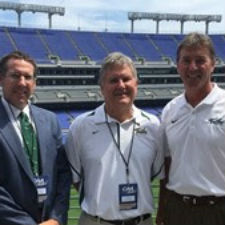 William & Mary football broadcasts will feature a new radio team this season, as longtime play-by-play announcer Jay Colley will be joined in the booth by former Tribe quarterback David Murphy '84 and Pete Clawson, Senior Assistant Athletics Director for Public Affairs.
A video feature introducing the new broadcast team is available above or by clicking here.
Audio broadcasts of all the Tribe's contests will be available on 92.3 FM The Tide and 107.9 Bach FM, as well as online at TribeAthletics.com.
Additionally, a video stream with audio from the radio broadcast will be available for all five of W&M's home games atTribeAthletics.com.
The Tribe, which is ranked as high as No. 6 nationally in the preseason polls, will open the 2016 season at NC State onThursday, Sept. 1, with kickoff set for 7:30 p.m. W&M's home opener in the newly renovated Zable Stadium will be against Norfolk State on Sept. 17 (6 p.m.).
Information on how to secure Tribe Football tickets for the 2016 season in the renovated Zable Stadium can be found by clickinghere.