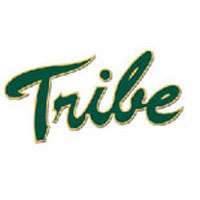 In front of a crowd of more than 6,000 and a nationally-televised audience on the NBC Sports Network, the William and Mary men's basketball team blitzed Delaware, 90-64, for its fourth straight win on Saturday afternoon during the annual #WMGoldRush.
The Green and Gold (17-6, 9-3 CAA) used a pair of 12-2 first-half runs to jump out to a 17-point lead over the Blue Hens (5-18, 0-12 CAA) at the break, before dropping the hammer with a 63.3-percent shooting clip in the final 20 minutes.
For the first time, the Tribe played a basketball game as a part of Charter Day Weekend at the College with W&M celebrating its 323rd birthday.
Junior Omar Prewitt led five Tribe players in doubles figures with 21 points on 6-of-8 shooting and 7-of-8 from the free throw line. Sophomores Greg Malinowski and Connor Burchfield propelled the Tribe bench to outscoring UD, 33-2. Malinowski finished with a career-high 15 points to go with five rebounds, while Burchfield knocked down 3-of-5 from long range in scoring 11 points.
SeniorTerry Tarpey added his 14th career double-double with 12 points and 11 rebounds, while fellow classmate Sean Sheldon just missed a double-double himself with a strong 10-point, 8-rebound effort. Sophomore David Cohn dished out 10 assists compared to just one turnover, rounding out an impressive stat line that included seven points and five rebounds.
The Tribe continues its homestand on Thursday, Feb. 11, when it hosts Hofstra. Tip-off is slated for 7 p.m. and the game will be broadcast on Tribe Athletics TV via Stretch Internet. Tribe fans can also catch the men's basketball action over the Tribe Radio Network with Jay Colley and Charlie Woollum on the call. The Tide 92.3 FM and 107.9 Bach FM are the flagship stations of the Tribe Radio Network and the audio is also available over the Web at TribeAthletics.com.