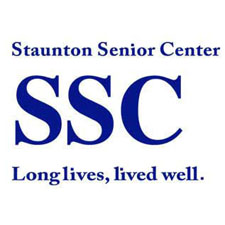 Last Thursday a whirlwind of various people blew through the Staunton Senior Center in one hour and fifteen minutes! About thirty members were already present when ten eleventh graders and two teachers from Stuart Hall School came for a planned visit. Little did they know that some of them would be "snagged" for kitchen detail! The day was March birthday celebration and Red Hat Day, so ice cream and cake were on the menu. The crew of four that volunteered found themselves in the kitchen with the instructions to "go to it" in cutting cake, dipping ice cream, and loading the cart for delivery to all!
Lunch was underway when twenty more seniors arrived from the Ms. Virginia Senior America Pageant rehearsal that had been going on upstairs. The ladies involved will be joining SSC for lunch on their rehearsal days. Once these women were settled, three Stuart Hall students who are in the choir led the Happy Birthday song in celebration. Soon some members went shopping at Walmart, the students left, and the pageant participants left as well, leaving SSC a much quieter space! Over sixty folks had just enjoyed spending the last hour together!
More online at www.StauntonSeniorCenter.org.