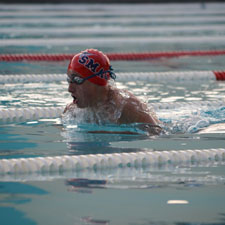 The Waynesboro Family Y Swim Team traveled to the site of the 1996 Olympics (Atlanta, Ga.) to compete in the National Y Long Course (50-meter pools) Swim Meet the last week of July.
The SMAC team felt it would be a great experience to compete at the former Olympic venue at the same time as the 2012 Olympics. SMAC generally competes in the Y National Short Course Meet (25-yard pools) in March, but this was the first time for SMAC to compete at the Y National Long Course Championship. The meet is open to any swimmer in the nation who swims for a Y team and who meets the qualifying time.  
SMAC sent the following swimmers to the national meet:  Bobby Carey (14), Jessie Arnold (age 15), Colleen Higgins (14), Norah Hunt (14), Steven Jenny (18), Justin Merritt (14), Elena Marsilii (18), Alex Rayle (17), Brazil Rule (14), Remedy Rule (15), Max Tempkin (14), .
SMAC got off to a great start the first night at the meet with four girls finishing in the top 20 of the 1500 meter freestyle, Arnold (fifth), Hunt (seventh), Marsilii (eighth) and Brazil Rule (10th).  The second night saw Remedy Rule finish third in the 400 free and Arnold finish 13th.  Rayle dropped an amazing six seconds from his best time to finish 14th in the 200 IM.
The girls 800 free relay team of Arnold, Remedy Rule, Hunt and Marsilli finished fifth for the highest SMAC finish ever at a national meet. The 800 free saw three SMAC girls finish in the top 11, Remedy Rule (second), Arnold (eighth), and Marsilli (11th).  Rayle once again dropped six seconds, this time in the 200 breast to finish 17th.  Rayle continued to drop time in the 400 IM and finished 16th.  Remedy Rule got her first victory in a national meet with a win in the 200 backstroke.  In the last night of competition Remedy Rule finished second in the 200 fly.
The boys finished 43rd out of 78 teams, the girls finished the meet in 12th out of 78 teams and for the combined team score they finished in 17th.
Most of the swimmers are taking a much-needed break for the next several weeks, but Brazil Rule, Norah Hunt, Kristen Wagner and Charlotte Rumsey will represent the State of Virginia at the Eastern Zone Swim Meet against other Eastern States.  Jessie Arnold will be traveling to Canada to represent USA Swimming in the Jr. World Open Water Championships.
For more information regarding Waynesboro Y swimming (SMAC) contact Coach Norm Wright, Director of Competitive Swimming at the Waynesboro Y at 942-5107 or email him at [email protected].
For more information about Waynesboro Y swimming (SMAC), please visit their website: www.smacswimming.org.