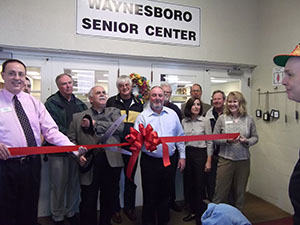 Waynesboro Senior Center had a Grand Renovation Ribbon Cutting with the Greater Augusta Regional Chamber of Commerce on March 14. Waynesboro Mayor Bruce Allen and VPAS Chairman of the Board Jim Bennett spoke at the event in front of a large audience. Jay Crawford, with the Chamber of Commerce, said the event had better attendance than any ribbon cutting he could remember. There were 76 people at the ribbon cutting itself and with additional people coming in for the Open House.
There were at least 93 people total in attendance. At least 50 of those were people that were not already associated with VPAS or WSC!
More online at www.WaynesboroSeniorCenter.org.