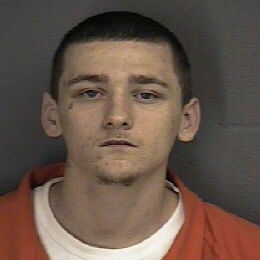 The Waynesboro Police Department is investigating an attempted home invasion robbery that occurred earlier in the week.  Just after 12:30 p.m. on Monday, the Waynesboro Emergency Operations Center received a 911 call from city couple indicating that there were three possibly armed individuals at their front door of their apartment in the 200 block of South Poplar Avenue.  The caller added that the suspects, one female and two males, were demanding entrance.
Several officers responded to the scene which is located just across the street from Waynesboro High School, 1200 West Main Street, specifically the student parking lot.  By the time officers arrived at the residence, all three suspects had fled in either vehicles or on foot.  This prompted a massive search of the area and a lock down of Waynesboro High School.
The victim couple, a 22 year old female and 19 year old male, identified all three suspects to officers.  One of the male suspects is Christopher Cody Means, 32 years old of Faber, VA.  Officers found a firearm at the scene which they linked to Means, a convicted felon.
The incident, which is drug related, is still under investigation.  Presently, only Means is wanted on a felony charge of Possession of a Firearm by a Convicted Felon; however, more charges are pending.
Anyone with information in this case is asked to call the Waynesboro Police Department at (540) 942-6675 or Central Shenandoah Crime Stoppers at 1(800) 322-2017.  Information given to Crime Stoppers may be given anonymously.  Callers with information that lead to an arrest in this case are eligible for a cash reward of up to $1000.
Update: Friday, 12:34 p.m. Means is in custody.  He was arrested on Thursday by the Nelson County Sheriff's Office and being held on a $10,000 bond at Middle River Regional Jail.