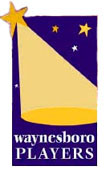 What:  Lights! Camera! Action!
When:  Friday and Saturday, October 25-26 at 7:30pm
Where: 329 W. Main St., Waynesboro
Admission: $10 in advance and $12 at the door (student ticket price available – grades 12 and under)
As the Waynesboro Players gear up for their fifty-second season, they decided to look back at some of their favorite musicals and original productions.  They will share those memories in a special presentation at WTA's Gateway on Friday, October 25 and Saturday, October 26.  The musical revue Lights! Camera!! ACTION!!! will be highlighted by many of the Players most popular talents.  The evening of song will start at 7:30 pm in what readers of the News Virginian voted the best music venue in the Valley.  Doors open at 7 pm.  WTA's Gateway is at 329 West Main in downtown Waynesboro.
Lights! Camera! ACTION!! will feature music from some favorite Broadway musicals as well as  gathering some of the very talented individuals who have graced the Players' stage.  The production will include original music by Richard Adams fromTuesday Mourning, written by Duane Hahn, and Shenandoah Moon, written by Duane Hahn, Elizabeth Massie, and Barbara Spilman Lawson
Appearing in Lights! Camera!! ACTION!!! is Anna Brule who played Annie in last season's production of Annie along with some of the orphans from that production, Anya Rothman, Emma Hunter, Hailey White, Savannah Lunger, Courtney Ott, and Annika Alderfer-Fisher.  Veterans of Players' productions and area stages, Sandi Blecher, Bob Lunger, Danny Lee, Dustin Roadcap, Liz Leone, Tara Stoll, Hank Fitzgerald, Nancy Houseknecht, and Bill Martin will also appear.
Tickets for Lights! Camera!! ACTION!!! are $10 in advance $12 at the door for Adults, $6 in advance and $8 at the door for students (Grades 12 and under).   Tickets may be purchased online at www.wtagateway.com or by calling the WTA box office at 540-943-9999.