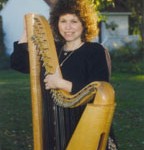 The Wayne Theatre Alliance and the Waynesboro Heritage Museum presents the third "Children's Hour" on Friday at 6:30 p.m. The featured performer will be Eve Watters. The program is ideal for school-age children and adults.
Eve Watters enchants audiences of all ages with an amazing mixture of music and stories from around the world. With her harp and treasure trove of stories, Ms. Watters has toured extensively—from New England to Australia.
Parent's Choice called her voice "deft and light as a butterfly dances." The Mid Atlantic Storytellers Conference proclaimed, "When Eve Watters plays the harp, the willows weep. When she sings, the fishes dance. And when she tells stories, people beg for more."
Eve Watters' recording of "My Ship Sailed From China" won the coveted "Parents' Choice Approved" label. Her harp music has been heard nationwide on PBS-TV's "Inn Country USA." Ms. Watters has been selected by the Virginia Commission for the Arts for its touring roster and its Artists-in-Education program.
Admission to the Children's Hour is free, but donations are welcomed to help cover the cost.
The performance is at 6:30 p.m. at the Waynesboro Heritage Museum at 420 W. Main St. in Downtown Waynesboro and will last approximately 45 minutes.
For more information call the Museum at 540.943.3943.
The October Children's Hour is supported by a grant from the Community Foundation of the Central Blue Ridge.