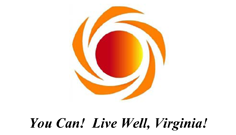 "You Can! Live Well! Diabetes Self-Management Program" is a free workshop series for adults of any age with diabetes, their family members and caregivers.
Participants will learn a variety of necessary day-to-day management skills needed to maintain and/or increase life's activities in order to live active and fulfilling lives. Topics include techniques to deal with symptoms of diabetes, guidelines for physical activity and exercise, healthy eating and menu planning, tools to help prevent or delay complication, effective communication with health care providers, problem solving and much more.
Workshops are scheduled in a variety of locations throughout the Augusta County Community this fall.
The workshop schedule and online registration is available at www.valleycdsme.com.
Call 540-949-7141 for more information or to register by phone.