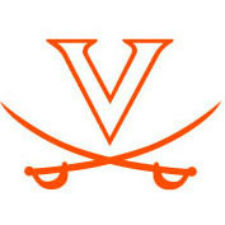 Virginia wrestlers George DiCamillo (Highland Heights, Ohio) and Zach Nye (Enola, Pa.) placed on Saturday in action at the Southern Scuffle hosted at the McKenzie Arena at UT-Chattanooga.
Fourth-ranked DiCamillo finished in third place, while 10th-ranked Nye finished in fifth place at the prestigious event.
DiCamillo battled through a tough bracket in the second day of action, starting the afternoon with a win in his quarterfinal match before falling in a tight contest to sixth-ranked Jordan Conway of Penn State in the semifinals. DiCamillo then defeated No. 19 Josh Martinez of Air Force to advance to the third-place match, where he defeated Nathan Kraisser of Campbell in a 6-2 decision.
Nye also battled through a tough bracket on Saturday. The 197-pounder fell in his quarterfinal match to start the day as No. 8 Jake Smith of West Virginia picked up a fall against the Cavalier at the buzzer in the second tie break period of the match.
Nye then picked up decisions over Ben Haas of Lehigh and Trent Noon of Northern Colorado before falling to third-ranked Connor Hartman of Duke. Nye then defeated No. 15 John Bolich of Lehigh in a 6-1 decision to take fifth place in the Southern Scuffle.
Nine wrestlers started the day wrestling for the Cavaliers with DiCamillo and Nye as the only two to place at the event.
Virginia will return to action on Friday, January 8, when the Cavaliers face VMI in a neutral-site contest at the St. Christopher School in Richmond. The dual meet is slated to begin at 7 p.m.
Results
125:
Will Mason (UVA) dec. Cody Minnick (unatt.), 5-3
Will Mason (UVA) dec. Vito Pasone (App. State), 7-4
Austin Assad (unatt.) dec. Will Mason (UVA), 7-5
133:
No. 4 George DiCamillo (UVA) major dec. Zachary Davis (Navy), 13-1
No. 6 Jordan Conway (PSU) dec. No. 4 George DiCamillo (UVA), 6-5
No. 4 George DiCamillo (UVA) dec. No. 19 Josh Martinez (Air Force), 10-5
George DiCamillo (UVA) Nathan Kraisser (Campbell)
149:
TJ Miller (UVA) dec. Mark Marchetti (Army), 13-6
Laike Gardner (Lehigh) dec. TJ Miller (UVA), 3-2
157:
Robert Henderson (UNC) dec. Andrew Atkinson (UVA), 11-5
174:
Fox Baldwin (UVA) dec. Barrett Walthall (UTC), 9-6
Ross Renzi (WVU) dec. Fox Baldwin (UVA), 5-3
184:
Tyler Askey (UVA) tech fall Nick Corba (unatt.), 16-0 (3:52)
Ville Heino (Campbell), dec. Tyler Askey (UVA), 10-4
Anthony McLaughlin (Air Force) dec. Will Schany (UVA), 5-3
197:
No. 8 Jacob Smith (WVU) fall No. 10 Zach Nye (UVA), 8:30
No. 10 Zach Nye (UVA) dec. Ben Haas (Lehigh),  8-4
No. 10 Zach Nye (UVA) dec. Trent Noon (N. Colorado), 6-4
No. 3 Connor Hartmann (Duke) dec. No. 10 Zach Nye (UVA), 5-0
No. 10 Zach Nye (UVA) dec. No. 15 John Bolich (Lehigh), 6-1
285:
Ethan Hayes (UVA) major dec. Dimitrius Renfroe (Michigan St.), 12-4
A.J. Vizcarrondo (WVU) dec. Ethan Hayes (UVA), 8-3