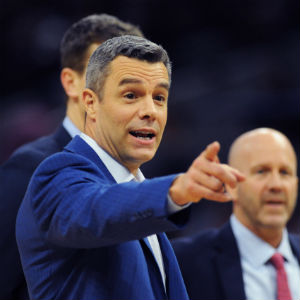 Virginia basketball coach Tony Bennett has signed on to a new initiative that will provide minority candidates with a chance to jump-start careers in coaching.
Bennett and his wife, Laurel, joined 35 other college head coaches and the John McLendon Minority Scholarship Foundation today in announcing a partnership to help launch the McLendon Minority Leadership Initiative.
As ambassadors for the MLI, the Bennetts are funding a MLI Future Leader, and the Virginia Athletics department plans to be a part of the MLI starting with the 2020-2021 athletics season.
"There are so many well qualified minorities that are very deserving of this opportunity," Tony Bennett said. "My wife and I are honored to be a part of this initiative"
MLI will provide minorities a jump-start to their careers through practical experiences, opportunities to build their network, and instilling the values of John McLendon, a legendary coach who is recognized as the first African-American to coach at a predominantly white university and was also the first African-American to serve as a head coach at the professional level.
Among his contributions to the game of basketball: McClendon is credited with the invention of the fast break, full-court press and four-corners offense.
He was later voted to the Basketball Hall of Fame and the College Basketball Hall of Fame
"The McLendon Minority Leadership Initiative is a huge step in the right direction for enhancing the pipeline within our industry," said Andrea Williams, chief operating officer at the College Football Playoff and McLendon Foundation President. "There are many qualified minority individuals who are prepared to make their mark and begin their careers in college athletics, and this program, jumpstarted by Kentucky coach (John) Calipari, is a great foundation to build on."
The McLendon Foundation, along with G3 Marketing and ProLink Staffing Services, will be assisting in the solicitation of collegiate coaches, administrators and corporations to build this program and provide opportunities within athletics departments at all levels, with the ultimate goal of expanding and enhancing the pipeline for minorities interested in pursuing careers in athletics administration.
As an added benefit, the Joel Cornette Foundation will assist the Future Leaders with corporate mentorship, development, and job placement.
More information regarding the MLI, including a pre-application for interested and qualified individuals, can be found at MinorityLeaders.org.
Learn more about John McLendon here.