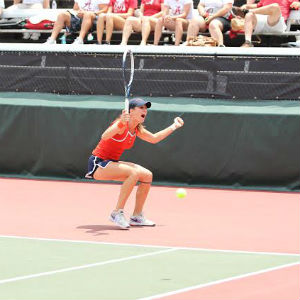 Photo by Bill Kallenberg
Virginia sophomore Danielle Collins (St. Petersburg, Fla.) defeated Cal's Lynn Chi 6-2, 7-5 to win the NCAA Singles championship on Sunday (May 26) at the Dan Magill Tennis Complex on the campus of the University of Georgia.
"I'm really happy I was able to win this title for our program, players and coaches," Collins said. "Obviously, we had an historic year as a team, but this was a big bonus to have an historic year individually. I took it one match at a time and really didn't think about the end result. I just listened to my coaches and we got this done together today."
Collins cruised to a 6-2 win in the first set and battled back from a 3-1 deficit in the second set to become the program's first individual NCAA singles champion. No. 32 Collins (36-10) went 6-0 during her historic run to the championship, defeating No. 43 Veronica Corning of Northwestern, No. 18 Annet Schutting of Cal, No. 2 Robin Anderson of UCLA, No. 7 Hayley Carter of North Carolina, No. 27 Ester Goldfeld of Duke and No. 24 Chi.
"What an amazing, amazing accomplishment by Danielle," Virginia head coach Mark Guilbeau said. "She earned every bit of it and is so well deserving of being the NCAA champion. This tournament was full of a lot of very strong players and Danielle went through an extremely impressive group to earn the title. We are so happy for her and proud of the way she prepared, played and won. Danielle communicated at the highest level throughout the tournament. She was extremely smart in her preparation and game planning, and more importantly, had the courage and confidence to execute each day. To end it with three of the best games of her entire season was so impressive. She stepped up and absolutely went for it with her serve, her pace and depth from the ground, and with her legs and heart. It was awesome to watch."
Collins, who was the first Virginia women's player in school history to advance past the NCAA round of 16, earned Virginia's fourth All-America singles honor, joining Lindsey Hardenbergh (2011) and Julia Elbaba (2013-14). Collins' 36 singles wins rank second all-time at UVa in a single-season.
"We all thank UGA and the NCAA for a great event," Guilbeau added. "Also the support from some special folks from Athens, as well as many, many fans and friends back in Charlottesville was incredible. I personally want to thank Danielle, of course for being such a great person throughout this, and also thank associate head coach Troy Porco and athletic trainer Erin Proctor for their tremendous work. I am so happy for Danielle and proud of her entire team for all playing a role in this accomplishment. Congratulations Danielle on winning the NCAA title!"