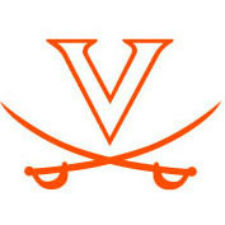 UVA men's golfer Denny McCarthy (Rockville, Md.) advanced to the quarterfinals of the 114th U.S. Amateur Championships in dramatic fashion Thursday by using a come-from behind rally over his final five holes at the Atlanta Athletic Club.
Competing against Eli Cole of Los Angeles, Calif., McCarthy fell behind early after losing the openinghole of their match. Cole, a TCU graduate, led McCarthy 3-up after 13 holes of play when the Cavalier senior mounted his rally.
McCarthy won the 14th and 15th holes with pars and then evened the match with a birdie on the 16th hole. After both players made par on the 17th hole, McCarthy took the match with another par on the 507-yard 18th hole. Cole posted bogey on the final hole.
"Today I was the one that got down early," McCarthy said. "I knew it was going to be a really big grind coming to the house. Yeah, I missed a couple short putts early, but I've been hitting it well all week and I knew if I just kept playing my game, I'd get a few putts to drop, and I got a timely one on 16, which was really big for me. I'm just really excited. The last couple holes, it's a blur to me now."
Earlier in the day McCarthy defeated Jonathan Chang of Corona, Calif. 5&3 to move into the round of 16.
McCarthy will face Houston's Roman Robledo (Harlingen, Texas) in the quarterfinals. They will tee off atnoon. McCarthy is making his sixth appearance at the U.S. Amateur Championships. This is the farthest he has advanced in the tournament.
Virginia's Derek Bard (New Hartford, N.Y.) was eliminated during the round of 32 of the tournament. Helost to Pepperdine's Frederick Wedel 2&1.