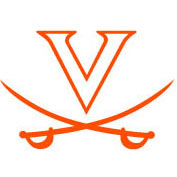 The 64-team field for the 2012 NCAA Baseball Championship was released Monday, and the Virginia baseball team will open the tournament Friday when it plays host to Army at Davenport Field in the NCAA Charlottesville Regional. The Cavaliers are the top seed in the regional, which is set for Friday through Monday (June 1-4).
Oklahoma, Appalachian State and Army join UVa to comprise the four-team field. Following the UVa-Army contest Friday, Oklahoma and Appalachian State will take the field. Game times will be announced later today.
The losing teams from Friday will play in an elimination game Saturday, while the winners will battle in the second game Saturday. The second elimination game will be contested at Sunday, with the championship game slated next on Sunday. If necessary, a second championship game will be played at Monday.
The winner of the Charlottesville Regional will advance to play the champion of the Columbia Regional in an NCAA Super Regional June 8-11. The Columbia Regional consists of host and No. 8 national seed South Carolina, Clemson, Coastal Carolina and Manhattan.
2012 NCAA Charlottesville Regional Schedule
Friday, June 1
Game 1 – No. 1 Virginia vs. No. 4 Army
Game 2 – No. 2 Oklahoma vs. No. 3 Appalachian State
Saturday, June 2
Game 3 – Loser Game 1 vs. Loser Game 2
Game 4 – Winner Game 1 vs. Winner Game 2
Sunday, June 3
Game 5 – Winner Game 3 vs. Loser Game 4
Game 6 – Winner Game 5 vs. Winner Game 4
Monday, June 4
Game 7 – Winner Game 6 vs. Loser Game 6 (if necessary)
Virginia (38-17-1, 18-12 ACC) earned a host site and the Charlottesville Regional's top seed after finishing fourth overall in the ACC. UVa will be competing in its ninth-consecutive NCAA tournament and is one of 10 schools to play in each of the last nine tournaments. This is Virginia's 12th NCAA appearance. UVa will serve as a regional host site for the sixth time in nine years, including third straight seasons (2004, 2006, 2007, 2010, 2011, 2012).
No. 2 seed Oklahoma (38-22, 13-10 Big 12) was the Big 12 runner-up after falling to Missouri, 8-7, in the league championship game on Sunday. Max White leads the team with a .356 batting average as well as 54 RBI; he was one of five Sooners on the All-Big 12 team. The Sooners are batting .269 as a team, have a 3.35 team ERA and own a .969 fielding percentage. OU is making its second trip to Charlottesville in the last three years; the Sooners won the 2010 Charlottesville Super Regional, two games to one.
No. 3 seed Appalachian State (39-16, 21-9 Southern Conference) won the SoCon regular-season championship and is making its first NCAA appearance since 1986. The Mountaineers own an impressive .305 team batting average, highlighted by Tyler Tewell at .375. Daniel Kassouf owns a team-high 17 home runs to go with a .345 batting average. The Mountaineers, who own a road series win over LSU this year, have a 4.16 team ERA and a .970 fielding percentage.
No. 4 seed Army (41-13, 18-2 Patriot League) earned its bid to the tournament with an 8-4 win over Holy Cross Tuesday in the third and deciding game of the league championship series. The Black Knights won their fourth conference championship in the last nine years. Kevin McKague leads the squad with a .389 batting average, 16 doubles and 44 RBI, while Harold Earls is batting .347. Army is batting .290 as a team and owns a strong 3.20 team ERA as well as a stellar .974 fielding percentage.
Virginia holds a 2-2-1 all-time record against Army but has not faced the Black Knights since 1913. Virginia is 2-2 all-time against Oklahoma and has never played Appalachian State.
Ticket Information
Ticket books may be purchased in person at the Virginia Athletics Ticket Office in Bryant Hall, by calling the Ticket Office at (800) 542-8821 or logging on to VirginiaSports.com.
As of Friday afternoon, approximately 2,000 tickets had been sold for the regional round as well as a potential super regional tournament. Davenport Field will seat 5,050 for postseason play.
All-session General Admission ticket books are currently on sale for $45 for the regional and $24 for a potential super regional. All-session Reserved ticket books are available for $60 for the Regional and $36 for the Super Regional.
All sections of the grandstand (Sec. 101-109) and the first base bleachers (Sec. A-F) are considered Reserved seating for both the regional and super regional rounds. General Admission seating is located on the grassy hillside down the left-field line and in the bleachers beyond the outfield wall in both left and right field on a first-come, first-served basis. Standing room is also available for General Admission ticket buyers.
NCAA tournament games at Davenport Field are expected to sell out. Fans are strongly encouraged to purchase tickets in advance, as it is the only way to guarantee they will be able to attend all tournament games.
Customers ordering tickets from now until game day may pick up their tickets at the Virginia Athletics Ticket Office in Bryant Hall through noon Friday or at Davenport Field Will Call on game day beginning two hours prior to the first session of the day.
If available, single-session tickets for the regional will go on sale to the public on Friday (June 1) from 9 a.m. to noon by phone and online. If available, single-session tickets will be $12 for Reserved and $8 for General Admission. Any remaining single-game tickets for the super regional will go on sale on Friday, June 8 at 9 a.m. and will be $16 for Reserved and $12 for General Admission.
Ticket sales at Davenport Field begin two hours prior to the first session each day and end at the top of the seventh inning on the last session each day. Fans may upgrade from General Admission to Reserved on game day, subject to availability, at the Davenport Field ticket windows for $4 per ticket.
Parking Information
All parking will be paid parking for the entire postseason. Parking on game day will be $5 in the University Hall, John Paul Jones Arena and McCue Center lots. The John Paul Jones Arena parking lot and garage will not be available for baseball parking on Saturday (June 2) because of an event at the arena. Parking will be free throughout the tournament in the Emmet/Ivy Garage.
For further information on NCAA baseball tournament tickets, please call the Virginia Athletics Ticket Office at (800) 542-8821 or log on to VirginiaSports.com.