Staff Report
News tips: [email protected]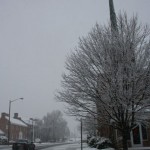 The National Weather Service has amended its Winter Storm Warning for Augusta County, Staunton and Waynesboro. The latest forecast from the National Weather Service, issued at 2:10 p.m., has the area in line for possible snow accumulations of 20 to 28 inches this weekend.
The Winter Storm Watch is in effect from 6 a.m. Friday to 10 p.m. Saturday.
AccuWeather.com is projecting snowfall rates of up to 3 inches per hour at the height of the storm. The worst of the storm is expected to come into the area late Friday afternoon and be here through the dawn hours on Saturday.
That rate of snowfall will make it difficult for road snow-removal crews to keep up.
It is advised that people stay off the roads as much as is possible during the storm because of expected treacherous driving conditions. Visibilities will be one-quarter mile and less during the worst part of the snow event with sustained 10 to 15 mph winds and gusts of 25 mph creating near-blizzard conditions.