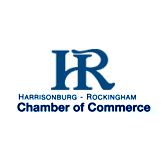 The Harrisonburg-Rockingham Chamber of Commerce announced today that Fine Earth LLC and Dave's Downtown Taverna have been recognized by the U.S. Chamber of Commerce as two of the top 75 businesses nationally.
Both of these local businesses have significantly contributed to the economic growth in our community, and as a result, are recipients of the Blue Ribbon Small Business Award®.
The Blue Ribbon Small Business Award® honors businesses that demonstrate excellent business practices in several areas, including strategy, employee development, community involvement, and customer service.
"Six Virginia businesses were chosen as U.S. Chamber of Commerce Blue Ribbon Small Business Award® winners," says Frank Tamberrino, president of the Harrisonburg-Rockingham Chamber of Commerce. "The fact that two of these businesses are from the Harrisonburg-Rockingham area speaks highly of our community and the contributions that these businesses are making to our local economy."
""Fine Earth is extremely honored to be named a U.S. Chamber of Commerce Blue Ribbon Award Winner for the third year in a row," says Chad Layman, owner of Fine Earth LLC. "For two businesses from Harrisonburg to be honored is incredible considering that only 75 businesses are recognized across the country. We have a lot to be thankful for and are greatly humbled to represent our local community and Chamber of Commerce on this national level."
"We have understood the importance of belonging to the Harrisonburg business community for some time," says Dave Miller, owner of Dave's Downtown Taverna. "It looks like our secret is starting to get out on both a state and national level. Such recognition can only mean great things for our community, especially for people opening more businesses and visiting our beautiful Shenandoah Valley."