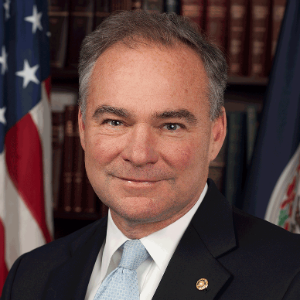 Tim Kaine formally filed his required ballot qualifying petitions with more than 18,000 signatures, far exceeding the 10,000-signature requirement, in his re-election campaign for the U.S. Senate. The large number of petition signatures clearly demonstrates the high level of support and excitement for Kaine's candidacy and the strength of his campaign's grassroots organizing foundation ahead of the election.
"This election will be a fundamental choice about the direction of Virginia. With 18,000 Virginians signing these petitions, I am heartened that so many people are joining our campaign to keep us moving forward," said Senator Tim Kaine (D-Va.). "I believe that we can create a Virginia for all — where every region and community has access to good jobs, health care, and education, and where we treat everyone with dignity and respect. That's what this campaign is all about."
A team of volunteers has collected signatures from all four corners of the Commonwealth – from Loudoun to Lee, and from Alleghany to Accomack – at more than 150 fairs, festivals, and community events. More than half of all signatures are from women, more than a third are people of color, and ages range from 18 to 80. The final count is comprised of signers from both urban and rural regions, as well as from Democrats, Independents, and Republicans.
Virginia Senate candidates must submit 10,000 total signatures to the State Board of Elections by the end of March to qualify for the ballot, with at least 400 signatures collected from each congressional district.
During early stops on the campaign trail in communities throughout the Commonwealth, Kaine has seen large, enthusiastic crowds, eager to get involved in the 2018 election cycle and to keep Virginia on a progressive path. Submitting petitions is the first real measurement of voter engagement in 2018 and the Kaine campaign has set a high watermark.