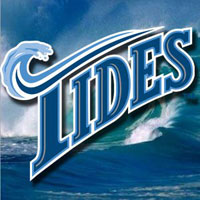 Ryan Adams delivered the game-winning double Wednesday night at Harbor Park to push the Norfolk Tides past the Scranton Wilkes-Barre Yankees 2-1 in front of 6,385 fans.
Adams who was just 4-for-31 since rejoining the Tides on June 21 had three hits on the night, but he saved his biggest one for last. With the game tied at 1-1, Adams crushed a ball into the right-centerfield gap that scored Josh Bell from first base. Bell had led off the inning with a single to right field off Josh Schmidt.
In what was a running theme all night, Adams nearly scored the go-ahead run in the seventh inning off a single by Matt Angle but was gunned down at home by left fielder Jordan Parraz. It was one of four outfield assists on the night between the two clubs, two from each side. It was also the second time on the night that a Tides base runner was thrown out at home plate.
Trailing 1-0 in the third inning, the Tides nearly tied the game with a sacrifice fly. John Hester and Angle delivered consecutive one-out singles to give the home team runners at the corners. Tyler Henson followed with a fly out to Greg Golson in right field who came up throwing and nailed Hester at the plate to end the frame. Golson, whose interesting night on the base paths included being picked-off for the second-straight night, had been doubled-off first base on a fly ball to Rhyne Hughes in right field to end the previous half inning.
Jeremy Accardo (1-0, 0.00) pitched 3.0 innings to pick up the win after entering the game to start the seventh inning. The righthander was greeted by a sharp single to left field by Luis Nunez, who then over-slid second base in an attempt to stretch his hit into a double. Accardo cruised from there, allowing just one walk the rest of the way.
Steve Johnson put together his second-straight strong outing for the Tides. The righthander allowed just one run on eight hits through 6.0 innings. His lone blemish came in the second inning when Parraz hit a one-out solo home run that gave the visitors a 1-0 lead.
The Tides tied the game in the fifth inning with a one-out RBI single by Matt Angle.
Schmidt (3-2, 2.65) took the loss after allowing one run on four hits during his 2.1 innings on the mound.
Lance Pendleton started the game for Scranton and lasted just 4.0 innings. He gave up a run on six hits.
The same two teams will meet again Thursday at 12:15. RH Mitch Atkins (1-3, 3.12) will try to win the series outright for the Tides opposite RH Adam Warren (6-2, 2.87).