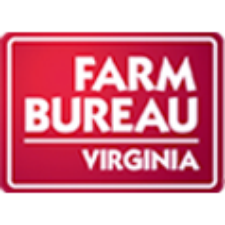 For the first time ever, Virginia Farm Bureau Federation had finalists in all three Young Farmers & Ranchers competitions at the annual American Farm Bureau Federation convention.
Chris Van Vlack of Loudoun County took home top honors Jan. 12 in the Discussion Meet competition at the 97th annual AFBF event. Sam and Ashley Gardner of Bedford County were runners-up for the Achievement Award, Mindy McCroskey of Washington County was a runner-up for the Excellence in Agriculture Award.
The Discussion Meet simulates a committee meeting in which active discussion and participation are expected. Participants are evaluated on their ability to exchange ideas and information on a predetermined agricultural topic. The final-round topic was how Farm Bureau members can influence state and national policies in a political atmosphere that favors increased regulations on farmers.
"When creating Farm Bureau policies (regarding regulation), we have to have the public in mind," Van Vlack said. "How will these policies appear to them? They have to be part of the conversation."
Building coalitions with like-minded groups and being willing to raise and commit financial resources to legal challenges are tools Farm Bureau should consider, he said. "But it all starts with convincing the public … that we have their best interests in mind and we can address policy that benefits all of us in society."
Van Vlack will receive his choice of a 2016 Chevrolet Silverado or a 2016 GMC Sierra courtesy of GM, plus free registration to the AFBF 2016 YF&R Leadership Conference next month in Kansas City, Mo.
The Gardners, who raise dairy heifers, were among three runners-up for the Achievement Award and will receive a Case IH Farmall 50A tractor courtesy of Case IH, along with $3,000 and Stihl Inc. merchandise courtesy of Stihl. The Achievement Award recognizes young farmers and ranchers who have excelled in their farming or ranching operations and exhibited superior leadership abilities.
McCroskey, a cattle farmer and vocational agriculture instructor, was among three runners-up in the Excellence in Agriculture competition and will receive a Case IH Farmall 50A tractor courtesy of Case IH, as well as $3,000 and Stihl merchandise courtesy of Stihl. The Excellence in Agriculture Award recognizes young adults who do not derive the majority of their income from farming but actively contribute and grow through their involvement in agriculture, their leadership ability and participation in Farm Bureau and other organizations.
"We are incredibly proud of all our national Young Farmer finalists," said Grant Coffee, VFBF Young Farmers Committee chairman. "They've all worked hard for this—not just their presentations for the competitions, but also the years of hard work they've put into building their farm operations to be showcases for Virginia agriculture."