Virginia Tech scored on four first-half possessions, and then won a war of attrition in a scoreless second half to take down Virginia, 16-6, on Saturday in Scott Stadium, extending the Hokies' winning streak in the series to 10 games.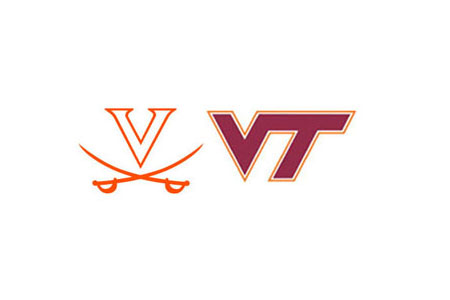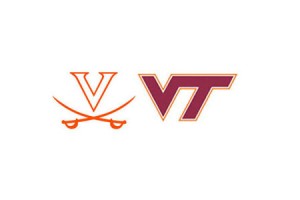 The 'Hoos (2-10, 0-8 ACC) hung around all afternoon. It was 9-6 Tech inside of two minutes to go in the first half when Virginia recovered a Logan Thomas fumble at the Tech 34. But Virginia wasn't able to convert the turnover into points, giving the ball back to the Hokies on downs after an unsuccessful fourth-and-11 pass.
Thomas turned the decision by UVa. coach Mike London to go for it into the game's only touchdown. On a third-and-10 from the UVa. 26, Thomas connected with Trey Edmunds on a pass across the middle that Edmunds turned into a 26-yard catch-and-run TD and a 16-6 Virginia Tech halftime lead.
The Hokies (8-4, 5-3 ACC) had the only real scoring threat for either team in the second half, driving deep inside Virginia territory on their first possession before a DreQuan Hoskey interception at the UVa. 9 ended the threat.
Virginia's best chance came after a Kevin Parks 48-yard run gave the 'Hoos the ball at the Virginia Tech 47. Backup quarterback Greyson Lambert was intercepted by Kendall Fuller on the next play from scrimmage.
Both teams opened with a pair of scoring drives that ended in field goals in the first half. Virginia ended the first quarter with an impressive 106 yards of total offense, but could manage only 185 yards of offense the rest of the way.
The game ended with the sizable quotient of the Scott Stadium announced crowd of 52,069 that was wearing Hokie maroon-and-orange leading a massive "Ten More Years!" chant as UVa. fans headed for the exits.
Virginia's last win in the series came in Charlottesville in 2003, a 35-21 victory that was former UVa. coach Al Groh's win against Frank Beamer. The loss on Saturday was Virginia's fourth in four tries under Mike London, who finished his fourth season with an abysmal 2-10 record, the program's second 10-loss campaign since 1975.
The last two 10-loss seasons at Virginia got the head coaches responsible for them fired (Sonny Randle in 1975, Dick Bestwick in 1981).
Virginia Tech took the field knowing that its chances of winning the ACC Coastal Division title had eroded before kickoff with Duke's 27-25 win at North Carolina earlier in the day on Saturday. Duke (10-2, 6-2 ACC) will play Atlantic Division winner Florida State (12-0, 8-0 ACC) next week in Charlotte.
UVa. Game Notes: Kevin Parks ran 17 times for 105 yards for Virginia, passing the 1,000-yard mark for the season. Parks is Virginia's first 1,000-yard rusher since Alvin Pearman in 2004. David Watford was 13-for-23 for 122 yards before being lifted at the start of the fourth quarter. Greyson Lambert was 4-of-16 passing for 54 yards and an interception.
Virginia Tech Game Notes: Logan Thomas was 13-for-29 passing for 229 yards, a touchdown and an interception in posting his third win as a starting quarterback over Virginia. Virginia Tech gained 361 yards of total offense.
Press Conference: Frank Beamer
Opening Remarks: "I am proud of our football team and what we accomplished out there tonight. I think that is hard to do against an in-state rival and I think it meant a lot to both teams. Both teams played exceptionally hard and I am really proud to come out of here with a win."
On a "chippy" first half: "It doesn't need to be that way. There were a lot of emotions in the first half. I made sure at halftime to tell them we don't need to do that. We need to play between the whistles and get ready for the next play. We don't need all of that other stuff."
On Duke's win today: "I didn't know about Duke's win until [after our game]. No one told me and I did not ask anybody. I thought 'let's take on Virginia first.' I will say congratulations to Duke. They have done something there that has never really been done before. They deserve a lot of credit. Those kids hung in there and deserve a lot of credit."
On field goals and Eric Kristensen: "[The field goals] were real big for us. I worried about the height on a couple of them. He [Eric Kristensen] is very accurate, just doesn't have very much experience. He handles things as well as you could hope for. We have had our issues with field goals, but we found a kid from Ann Arbor, Michigan. His flight is good, he is consistent, and he answered the bell. I am proud of him. He is a great kid. He has a very accurate and consistent swing."
On running bold plays: "That is a function of an open date and a big rival. We had a few things we thought could and would work. For the most part they did work, like the reverse on the kick off and getting the on-side kick. Overall I thought it was pretty good."
On the team: "When we started this year we had a lot of new people and had to move players around. Coleman was hurt, we lost our tight end who is a vital part of the offense, and then we lost our two cornerbacks. It kind of goes on and on, but then we went on to have eight wins. What I am trying to say is that I am proud of this football team. I think we played hard throughout and played together as well as we could. We had a great season here, we're going to a bowl, and finishing with eight wins, so I am really proud of this team."
On the streak against UVa: "It means a lot. They are our instate rival. I am not sure this can be done again. We have had some great players and have always played well against Virginia. We have been fortunate, but I am not sure that it will ever happen again."
Press Conference: Mike London
On season: "In the locker room we talked about the adversity that we have had to face. Things happened on the field that we would like to have back but we can't. We talked about making opportunities to improve. We talked about keeping your head up and not getting caught up in W and L's. It hurts to lose but sometimes things happen in life that you have to battle through. I thanked the seniors for their efforts. I wish I could have done a better job for them, coaching them. Today we did not go out on a positive note. I love the effort of those guys and who they are."
On Brent Urban's fumble recovery: "It hurts to not convert those turnovers into points. It is disappointing. Whatever it may be, there are different things that have occurred that have not allowed us to get those points. That has happened over the course of the year."
On program moving forward: "We have to address the things that cause us to lose games. Players need to understand their position isn't guaranteed next year. Coaches need to look at systems and schemes. We need to hold our head up and look straight ahead and forward. We need to make those corrections. These guys will have to go on and finish up exams. There are so many things to understand, and they start with eliminating those mistakes that cause us to lose. Like converting those turnovers into points. We have to get it right. We have to get it fixed."
On QB situation: "Perhaps Greyson [Lambert] could have gone in the game a little earlier in the 3rd quarter. He had his opportunity and did a nice job in some spurts. But toward the end, Virginia Tech did a great job on the pass- rush situation. Eric Smith had his hands full. Tech made plays when we couldn't. Greyson will have plenty of opportunities moving forward. It is important that the team improves."
On VT defense: "There were some good things that we did to stop them. We had a couple of throws that I wish we had back. Going into this game I knew that their defense was something that we probably couldn't overcome. Bud Foster has does a great job defensively and has won against a lot of teams."
On Kevin Parks: "I'm happy for Kevin. He is a team player. He will probably say he would rather have the win but to have a running back run for 1,000 yards is great. It speaks to the young man he is and the hard worker that he is. I am very happy for Kevin and I'm sure this is something that he will remember."
On Virginia defense: "They scored 16 points. We scored six. I think there were some good things that we did defensively but we needed to keep them out of the end zone. It was a great effort by the team. Some things just happen that turn the course of a ball game. We need to learn to make those stops and make those throws. We need to be productive in what we do to correct it."
On London returning: "I just ended a meeting with last years team and I'm looking forward to getting next year's team prepared."