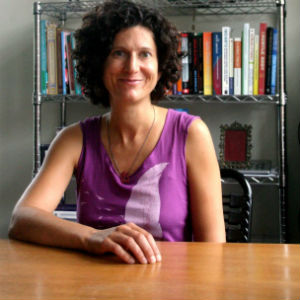 Article by Allison Profeta/StauntonInsider.com
I recently sat down with Anne Buzzelli, a Staunton nutritionist operating her own practice named BuzzNutrition. What struck me about Anne, and what caused me to seek her out for a story, is that if there were to be a trophy given out for "Staunton's #1 Fan," she would certainly be in the top three contenders!
You can find Anne helping out with community initiatives, like the Little Free Libraries that were recently installed in Gypsy Hill and Woodrowparks.  She is an active member of the (h)OUR Economy.  Anne is also a part of the Staunton Food Policy Council and recently joined the fight tolegalize backyard hens for Staunton residents.
So what drives all this passion?  I mean, yes, Staunton is awesome and we are all huge fans.  But what specifically inspired Anne to take up the cause of local, healthy food?
Her story begins Chicago where she worked as a computer programmer.  "I was bad at it," Anne admits with a chuckle.  However, she did not expect to find her true passion through a very serious health scare.  After quitting her programming job, and leaving to travel through South America, Anne fell ill ulcerative colitis.  She flew home and ended up in the hospital for a month and a half where she faced several daunting surgeries.  Although well-supported by friends and family, she admits "The whole experience was mentally and emotionally traumatic.  In the end it helped me because I have deep empathy for people who don't feel well.  I know what that's like."
Off to Seattle she went, where she focused on obtaining her degree and focusing on whole foods.  Although happy in Seattle, she ultimately found her way to Virginia to be closer to family and to find more sunshine.  Here in Staunton, she shares that she feels as if she's found more than just friends.  "I found a whole team."
Her practice focuses on helping people navigate their way through whole health and finding balance in life.  By focusing on nutrition, stress, nourishment, and balance, Anne helps people through a variety of health issues, from wanting to lose weight, wanting to eat healthier, to tackling health concerns such as diabetes, Lyme disease, the aftermath of gastric bypass surgery, digestive disorders, allergies, sleep and anxiety issues, ADD/ADHD, and much more.
"I'm just a person who loves food and lives life," Anne said.  "It makes me happy to help people see their amazing potential, and to shed all the 'stuff' that might be holding them back."
Where you can find BuzzNutrition:
117 S. Lewis Street, Suite #220, Staunton VA (across from Redbeard Brewing and next to Black Dog Bikes)
Phone: (540) 414-7525
Visit the BuzzNutrition website and like them on Facebook.  You can also meet Anne on Saturday, October 24, 2014 during the Socktober Challenge she helped organize!  It's being held in the parking lot next door to Black Dog Bikes, with a costume contest going on at the nearbySunspots Pavilion!   Bring socks and other cold weather gear (gloves, sweaters, blankets, hats,toiletries and canned food) for donation to the Valley Mission, and enjoy fun handouts and a meet and greet with area health and wellness experts!