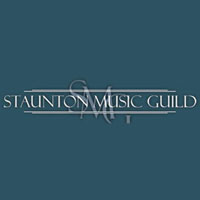 The first local performance sponsored by the Staunton Music Guild's "Gift of Music" program will take place on Tuesday, May 14, 2013 at the Waynesboro Public Library, 600 S. Wayne Ave. The Staunton Music Guild (SMG) will provide matching funds to the Friends of the Library to present The Harmony Sisters at noon. The Harmony Sisters are SMG members Brenda Remis and Beth Lins. They will be performing a program of gospel, bluegrass and original songs.
The Gift of Music is a new SMG initiative with the purpose of providing musical entertainment for groups that might not otherwise have access, as well as to provide local musicians with paid performance opportunities. Requests for a Gift of Music performances can be made by emailing [email protected].
The Staunton Music Guild is a 501(c)(3) charitable organization whose mission is to support the performance and growth of music in the Staunton area through promotion, education and community outreach. Showcases, educational events and a variety of volunteer and promotional opportunities are planned throughout 2013.
Visit www.stauntonmusicguild.org for more information.