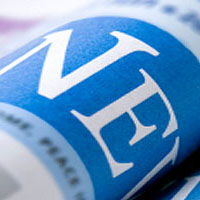 Shenandoah Valley Project Impact (SVPI), the Central Shenandoah Valley's regional disaster preparedness and mitigation program, recently celebrated its 15th anniversary and has issued a comprehensive report showcasing the many programs and activities that have been accomplished since its inception.
SVPI is an educational program of the Central Shenandoah Planning District Commission (CSPDC) that was founded in September 2000 through a grant from the Federal Emergency Management Agency (FEMA), with a mission to create resilience and disaster-resistance throughout the region.
Sharon Angle, Director of Planning with the City of Staunton and chairperson of SVPI, emphasizes what SVPI has meant to the community:  "The importance of Shenandoah Valley residents educating and preparing themselves for severe weather and other natural and manmade emergencies cannot be emphasized enough, particularly because of the confusion and interruption of services that can happen during these type of events. Individuals need to be equipped to rely on their own resources for several days if necessary.   For the past 15 years, Project Impact has led the way in providing critical resources, training and information that assists local governments, emergency providers and citizens in preparing for that possibility."
SVPI has conducted hundreds of trainings, demonstrations, surveys, forums, and planning meetings, as well as developed important plans and printed materials to educate Valley residents on ways to protect their families, homes and properties, and businesses from the impact of severe weather, emergencies, and disasters. SVPI's annual Disaster Resistant Forum and a free ten-week Community Emergency Response Training (CERT) course are two of the most popular offerings. The Disaster Resistance Forum is well attended by representatives from local governments, human service organizations, businesses, and concerned citizens and covers topics ranging from lessons-learned from recent events, pertinent reports, and updates of current activities of the Virginia Department of Emergency Management.
The Staunton-Augusta-Waynesboro CERT program sponsored by SVPI and facilitated by the CSPDC has graduated nearly 500 people since 2003. The purpose of CERT is to train ordinary citizens in a variety of topics including disaster preparedness, fire safety, emergency medical operations, and terrorism awareness so that in the event of a large scale emergency or disaster when first responders are overwhelmed, these citizens will have the skills to assist their families, neighbors, and community.
In 2012 SVPI also became a pilot community for the Resilient Neighbors Network, a national program that will forge stronger efforts within local communities to prepare and respond to emergencies.
SVPI's success has been due to the commitment of the local jurisdictions in the region, partnering organizations, and concerned citizen volunteers that have helped implement programs, attended workshops and trainings, and promoted citizen awareness. The SVPI 15-Year Report is attached, or can be viewed online HERE. Anyone interested in conducting educational programs and activities in the Central Shenandoah Valley to increase disaster-resistance and resiliency should contact Rebecca Joyce, SVPI Coordinator at [email protected] or 540-885-5174.