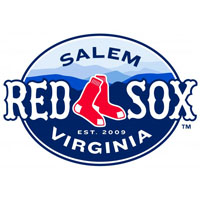 Tied 1-1 into the last of the ninth, the Salem Red Sox received doubles from Kevin Mager and Matty Johnson to surge past the Wilmington Blue Rocks for a 2-1 victory in the series opener.
Mager led off the inning with a deep drive off the left-field wall, and two batters later, Johnson hammered the first pitch he saw against Wilmington reliever Zeb Sneed into the right-center field gap. The two Blue Rocks outfielders gave up on the ball quickly as it bounced onto the warning track, and pinch-runner Dreily Guerrero sprinted home to give the Sox their first walk-off win of 2014.
A pitcher's duel from the start, Salem's Corey Littrell tossed five scoreless innings with five strikeouts, while Kyle Kraus earned the win with four strong innings out of the bullpen. Wilmington's Sean Manaea dealt four scoreless frames, using six strikeouts to pitch out of a couple jams. The Sox got one run off Blue Rocks reliever Aroni Nina, and the final tally against Sneed, giving him the loss.
The game remained scoreless into the sixth inning, when Wilmington scored the game's first run on a Mario Martinez throwing error. With Johermyn Chavez at second following a leadoff double, Cam Gallagher's slow chopper to third became an infield single and Chavez raced home when the throw to first got away. The Blue Rocks led 1-0, but the advantage was short-lived.
In the last of the sixth, Reed Gragnani ripped a leadoff single and scored four batters later on Jayson Hernandez' two-out RBI double. It was the third double of the night for Hernandez, who went 3-for-4 with three extra-base hits in his finest game of the season. He also gunned down Wilmington's Hunter Dozier when he was trying to steal second base in the top of the seventh.
Both teams defended well, with each team recording two outfield assists. Kevin Heller rifled a bullet to third base to retire Chavez when he tried to advance from second base on a line-out to right field in the second, and Mager triggered the relay that nabbed Bubba Starling at third base in the fifth when he tried to stretch his double into more. Starling also registered two assists from center field, as the Sox lost a runner at the plate in the sixth and a man at second in the eighth.
The victory snaps Salem's three-game losing streak and improves the Sox to 16-13 on the year. Wilmington's three-game winning streak also ended, sitting the Blue Rocks at 13-15.
The three-game series continues at 11:05 AM on Tuesday morning, with Pat Light scheduled to pitch against Miguel Almonte.