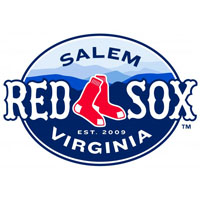 If a 10 run night Tuesday seemed good, a 12 run night was even better for the Salem Red Sox, who routed the Lynchburg Hillcats 12-3 at City Stadium Wednesday night. The Sox used a seven run fourth inning to blow the game open. Salem has outscored Lynchburg 22-3 in the first two games of the series.
Joe Gunkel continued Salem's starting pitching dominance of late, allowing just a run on seven hits in six innings of work. Gunkel walked just one and struck out seven Hillcats. Daniel Watts was roughed up in defeat, allowing ten hits and nine runs (seven earned) in three and two thirds.
Lynchburg actually took a 1-0 lead in this game on a leadoff home run by David Nick. The Hillcats managed a hit in every inning from the first through the seventh but did not score any runs, leaving seven on base. Down 12-1 in the eight, pinch hitter Daniel Carroll hit a long home run off Kyle Martin to make it a 12-2 game.
The Sox turned a 1-0 deficit into a 2-1 lead in the second. Kevin Heller launched a two run homer off Watts to give the Sox a lead they would not relinquish.
The game stayed 2-1 until the fourth. Mario Martinez led off with a double and was bunted to third by Aneury Tavarez. Watts then hit Kevin Heller to put runners on the corners with no outs. Jordan Weems knocked a single to left field to score Martinez to make it 3-1. After a single by Matty Johnson loaded the bases, Mike Miller hit a ball that went under the glove of second baseman Levi Hyams, scoring two runs on the error to give the Sox a 5-1 edge. Still with one out, Reed Gragnani singled in Johnson and Jantzen Witte doubled in Miller and Gragnani to give the Sox an 8-1 lead. After a strikeout by Blair, Martinez doubled for the second time in the inning, scoring Witte and completing the seven run frame.
Salem extended its 9-1 lead in the fifth. Matty Johnson tripled off Mauricio Cabrera and scored on a wild pitch to put up a tenth run for a second straight night. In the sixth, after back to back two out walks by Carbera to Martinez and Tavarez, Kevin Heller drove in both runners with a double off new pitcher Nate Hyatt to give the Sox a 12-1 lead.
Lynchburg added a final run in the ninth, when pinch hitter Tyler Tewell drove in Blake Brown to get to the final margin of 12-3.
The Sox try to sweep the series tomorrow evening at 7:05. Salem has not swept a series on the road since the opening series of the year, April 3-6 at Myrtle Beach. Simon Mercedes goes for the Sox with Jarrett Miller on the bump for the Hillcats.