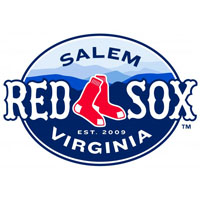 Pat Light and Kyle Martin were both excellent on the hill, the Sox offense awakened in the seventh inning, and Salem dispatched Wilmington 6-2 in the regular season home finale at LewisGale Field. Jantzen Witte contributed three hits and drove in three runs, while Matty Johnson reached base three times to extend his consecutive games on base streak to 26. The win keeps the Sox tied with the Pelicans in pursuit of the outright second-half title in the Southern Division.
Light set down the first nine batters through three perfect innings, with Salem building a 1-0 lead behind him. In the last of the first, Carlos Asuaje ripped a double into the left-center field gap, with Witte driving him in via a two-out single against Carolina League ERA leader Glenn Sparkman.
The Sox had opportunities to create more damage against Sparkman, but the Blue Rocks righty escaped a bases loaded jam in the second and worked five innings, scattering seven hits and just the one run. Meanwhile, the Blue Rocks got a two-out RBI single from Zane Evans to bring in Brett Eibner in the fourth, tying the game at one against Light.
With the action still all even in the seventh, Jake Romanski led off with his second double of the night. Jose Vinicio dropped down a bunt single, moving Romanski to third, and then Johnson hammered an RBI single to right, giving the Sox a 2-1 lead. After a strikeout, Reed Gragnani smoked an RBI double to deep right, scoring Vinicio and moving Johnson to third. Witte promptly laced another RBI single to right, bringing home two more runs to give the Sox a four-run inning and a 5-1 lead.
Salem added another insurance run on Jose Vinicio's RBI triple in the last of the eighth, giving Martin a five-run cushion into the ninth. Cody Stubbs launched a solo homer for the Blue Rocks, but Martin held on for the win, striking out five in his two and two-thirds on the hill to improve to 4-4 on the year.
Light received a no-decision, striking out six in six and a third strong innings, permitting only one run on five hits. Andrew Edwards suffered the loss for Wilmington, surrendering five runs in his three innings on the mound.
The Sox now hit the road for the final seven days of the regular season, a trip through Frederick and Wilmington that will include two doubleheaders. The Sox play the Keys five times in four days before taking on the Blue Rocks four more times in three days to wrap up the journey. Salem and Frederick will kick off their matchup at 7 PM on Tuesday night, with Simon Mercedes scheduled to oppose Matt Taylor.