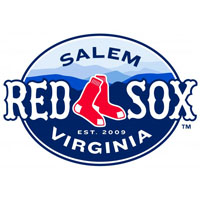 The Salem Red Sox achieved their highest offensive output in two weeks in a 8-2 win over the Potomac Nationals at LewisGale Field Friday night. The Red Sox had averaged only 2.3 runs per game in their last 11, but that all changed Friday with a three run second, a run in the fourth, two in fifth and two in the seventh.
Simon Mercedes picked up the win in his best start of the season, going six innings, allowing a lone run and five hits. He walked only two and struck four. Madison Younginer was good for the Sox in relief, surrendering just two hit in two innings. Ronald Pena was dealt the loss for the Nationals. Pena allowed six runs and eight hits in five innings.
The Sox offense started taking flight in the second inning. Mario Martinez and Kevin Heller each singled to center to start the frame. Martinez came around after two productive groundouts, Heller on a wild pitch. Then Jayson Hernandez hit his first home run of the season to make it 3-0.
In the fourth, Anuery Tavarez scored on a sacrifice fly to make it 4-1.
In the fifth, the drama came on a bunt. With Bo Greenwell on second, Jonathan Roof was called out on a bunt back to the mound. After an argument from Carlos Febles and discussion between the umpires, the call was reversed and Roof was deemed safe. Nationals manager Tripp Keister was ejected arguing the call. But that was just the start of the fireworks in the inning. The Sox would get two more runs, first on a Martinez single and then on a ground ball by Heller on a force attempt at second. That made it 6-1 Sox.
The Sox got their final two runs in the seventh when Tavarez singled home Reed Gragnani and Martinez.
With the win, the Red Sox move within 4.5 games of Myrtle Beach in the South division. Salem and Potomac return to LewisGale Fieldtomorrow at 6:05. William Cuevas takes the ball for the Sox while Matt Spann goes for the Nationals.