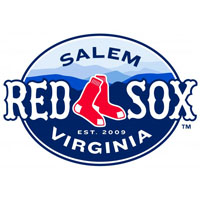 The Salem Red Sox scored five runs after the sixth innings to get within a run, but fell 9-8 to the Frederick Keys at LewisGale Field on Monday night. Salem struck for a run in the seventh and four in the eight to cut a six run deficit down to one.
Mark Blackmar picked up the win for Frederick. Blackmar went six innings, allowing eight hits and four runs, with three walks and two strikeouts. Joe Gunkel was dealt the loss for Salem, going five innings, surrendering 10 hits and nine runs. Six of the nine runs were unearned, on a day the Sox committed five errors.
Frederick struck early in a wacky top of the first inning. Mike Yastrzemski led off with a walk, followed by a single by Glynn Davis. A batter later, Trey Mancini singled in Yastrzemski, with Davis moving to third when Aneury Tavarez bobbled the ball in right. Tavarez throw to third went under Mario Martinez, allowing Davis to score. Tavarez and Martinez were each charged with an error on the play. Two batters later, Brenden Webb singled in Mancini to give the Keys an early 3-0 lead.
The Red Sox added one in the bottom of the frame. Matty Johnson led off with a double, and moved up to third on a bunt single by Mike Miller. The throw to first on the bunt was dropped by Mancini, which allowed Johnson to come around and score.
The score stayed 3-1 until the fifth. Jerome Pena doubled with one out off Gunkel, followed by consecutive singled by Yastrzemski and Davis to give the Keys a 4-1 lead. A batter later, Mancini double din to more runs to give Frederick a six run edge. Frederick would score three in three frames tonight.
In the sixth, Jason Esposito led of with a single. Then Adrian Marin bunted in front of home plate. Carson Blair's throw got away which allowed Esposito to come around and score. Wynston Sawyer was next up and knocked one over the left center field wall to give Frederick its largest lead of the night at 9-3. Kyle Kraus came in and finished the Keys in the sixth.
Kraus was outstanding out of the Red Sox bullpen, allowing a lone hit in four innings of work.
The Sox started their comeback in the seventh. Matt Gedman singled to start the frame off Blackmar, and scored on a single by Miller off Matt Hobgood to cut it to a 9-4 game.
Then in the eight Carson Blair led off with a walk. After two outs, Gedman singled in Blair to get it to a four run game. Matt Price came in to relieve Hobgood, and walked Ryan Dent and Johnson to load the bases. Gedman scored on a wild pitch, followed by another walk to Miller. With the bases loaded, Reed Gragnani singled in two runs to cut the lead to just one. But that was as close as Salem would get, as Price got the Sox 1-2-3 in the ninth to preserve the 9-8 win.
The Sox and Keys play game two of this series tomorrow night with Cody Kukuk going for Salem. Brady Wager gets the ball for Frederick. First pitch is scheduled for 7:05.