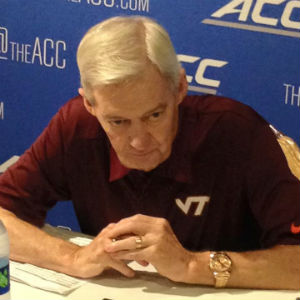 The Salem Red Sox announced that former Virginia Tech football coach Frank Beamer will be making an appearance at LewisGale Field on Friday, August 5.
To honor the occasion, a special edition Beamer bobblehead will be given out to fans that purchase a Beamer Pack. The pack includes two tickets to the game on August 5, one Beamer bobblehead and a $2 donation to Beamer's foundation, Herma's Readers.
All combined, the pack is available for $22. Season ticket holders who already have tickets for the August 5 game can purchase the bobblehead for $10, with proceeds going to Herma's Readers.
Fans can guarantee a bobblehead by purchasing the Beamer Pack by May 31. Those who purchase the pack after May 31 do not have a guarantee of receiving the bobblehead on the day of the game, but may instead receive a voucher to pick one up at a later date.
Beamer, who retired after 29 seasons in Blacksburg, will be on hand to throw out the first pitch for the 7:05 p.m. game with the Lynchburg Hillcats.
Fans can purchase a Beamer Pack by calling the Red Sox at 540-389-3333 or by visiting salemsox.com/beamerbobble.
ABOUT HERMA'S READERS: Coach Frank Beamer founded the foundation in 2008 as a tribute to his mother, Mrs. Herma Beamer, an educator of over 30 years. Currently, Herma's Readers has raised over $145,000 for the purchase of new books and has collected and distributed over 170,000 new and used books according to the foundation's website.