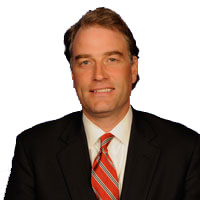 On Wednesday, a deadly storm tore through Virginia's Fifth District and across a broad swath of the Commonwealth.  In the Fifth District, Appomattox County bore the brunt of the storm as it was struck by a tornado that left in its wake a path of destruction and loss.  Sadly, seven people were injured, and 78 year-old Edward K. Harris was killed.  Elsewhere in Virginia, three people were killed in Waverly and dozens more across Virginia were injured.  We continue to pray for those who lost loved ones and for a speedy recovery for the other victims.
In the Evergreen area of Appomattox County, the tornado tore through the peaceful community damaging or destroying more than 200 homes, in a stretch that was 16 miles long.  Nearly 400 people have been displaced by the storm.  These numbers are staggering, but the damage this tornado left is hard to fathom.  Our thoughts and prayers continue to be with all of those who have been affected by this storm.
On Friday, I visited Evergreen and met with local leaders and those who had been impacted by the tornado.  There, I saw firsthand the devastating destruction this storm caused, and I also witnessed the overwhelming outpouring of support for those who had lost so much.
I spoke with Appomattox County High School football players and students from Rustburg High School who were hard at work cleaning up debris.  At Evergreen Baptist Church, which has become a relief and volunteer center, I visited with volunteers, who were serving meals and organizing donations of everything from teddy bears to paper products.  I met with members of the National Guard who came in to assist, and I was grateful for the opportunity to thank our first responders, who put themselves in danger each day to ensure our safety.  The men and women I met with came from all across the Commonwealth and rushed to Appomattox County to volunteer to help.
In the wake of this storm, we have seen a tremendous response from the community.  We well know that our communities are resilient and full of Virginians who care deeply about their neighbors, but last week, we were again reminded of just how strong our people are.
I thank all of those involved for their speedy response, and our office remains committed to offering assistance in any way that we can.  If our office may be of assistance to you in any way, please do not hesitate to contact us.
Several local and regional service organizations are aiding the Appomattox community, and I encourage all Central and Southside Virginians who are able to contribute to the cause.  In the end, I have no doubt that Evergreen and Appomattox County will rebuild and become even stronger than it was before.
If you need any additional information or if we may be of assistance to you, please visit my website at hurt.house.gov or call my Washington office: (202) 225-4711, Charlottesville office: (434) 973-9631, Danville office: (434) 791-2596, or Farmville office: (434) 395-0120.
Robert Hurt represents the Fifth District of Virginia in Congress.