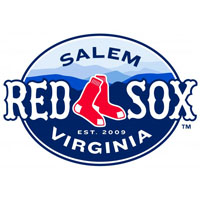 The Salem Red Sox earned their first shutout win of the season as they two-hit the Winston-Salem Dash en route to a 9-0 win Friday night at BB&T Ballpark.
The Red Sox (19-8) struck in the first inning against Matt Cooper, when Rafael Devers laced a two-run single with the bases loaded to put Salem up 2-0.
In the second, Yoan Moncada blasted his second home run of the season off Cooper (1-2), which cleared the wall in right-centerfield. From that point, Cooper settled down to not allow a hit in his final four innings of work.
Three runs were more than enough for Trey Ball, as the 2013 first-rounder was in control in his second outing of the season. Ball (1-0) faced just one over the minimum in his 6.0 shutout innings of work, allowing just two hits, striking out two and not walking a batter. He accomplished that line on an economical 61 pitches, including 43 strikes.
Salem added two runs in the seventh inning against Euclides Leyer, who allowed a bases-loaded single to Andrew Benintendi, which scored Mike Meyers and Moncada to bloat the lead to 5-0.
Benintendi finished 2-for-4 with two RBIs, a walk and two runs scored. His hitting streak now sits at 23 games, tying a Salem baseball record set by Art Howe of the 1971 Salem Rebels.
Moncada reached base twice in the game and scored two runs, and has now scored after reaching base 11 consecutive times – a streak spanning the last four games.
The Red Sox tacked on another run in the eighth inning against Colin Kleven, thanks to an RBI infield single from Meyers, scoring Devers to run it to 6-0. Nick Longhi walloped a two-run double off the centerfield wall in the ninth and two batters later, Devers brought him home to make it a 9-0 Red Sox lead.
The Dash (10-18) did not have a hit and only had one baserunner after the fourth inning. Ben Taylor was the first out of the bullpen for the Red Sox, and tossed 2.0 perfect innings, recording two strikeouts. Jake Drehoff pitched a scoreless ninth inning, striking out two and issuing a walk. Ball, Taylor and Drehoff combined to retire 16 of the final 17 batters of the game.
Salem has now won eight straight contests, tying a Salem Sox-era record set from August 7-17, 2014.
The Red Sox continue the weekend series with the Dash with a doubleheader Saturday night at BB&T Ballpark. First pitch in game one is scheduled for 5:30 pm. Salem will send Matt Kent (1-1, 5.87) to the mound in the opener, while Winston-Salem will counter with Thad Lowry (0-2, 3.96). Game two will feature a matchup of Travis Lakins (3-1, 2.13) for the Red Sox, and Jordan Stephens (0-3, 3.86) for the Dash. Follow along with all the action on the Salem Red Sox Baseball Network, beginning at 5:15.