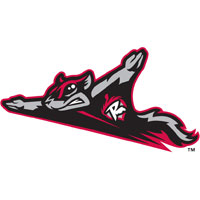 Right-hander Aaron Nola worked six scoreless innings as the Reading Fightin Phils breezed past the Richmond Flying Squirrels, 7-1, at FirstEnergy Stadium on Friday night.  It marked the first road game of the season for the Squirrels and home opener for the Fightins.
Reading got to left-hander Jack Snodgrass for the first time in the bottom of the third inning, plating the first three runs of the ballgame.  Roman Quinn sparked the inning with a bunt-single, and Snodgrass then walked Carlos Alonso to put two aboard.  Altherr followed and drove an RBI double through the alley in right-center field.  Brock Stassi then made it 3-0 with a two-run single dumped into short-right field.
The Fightins picked up where they left off and chased Snodgrass in the fourth.  KC Serna got the Fightins started with a lead-off broken-bat single to right field.  A passed ball moved him to second and Nola bunted him to third.  Quinn was at it again with another bunt-single pushed to the right side.  The single scored Serna for a 4-0 lead.  Snodgrass then walked Alonso for a second time and intentionally passed Altherr to load the bases.  He then walked Stassi to force in a run, and was lifted from the ballgame.  Right-hander Pedro Rodriguez entered, and Cam Perkins capped the scoring in the inning with a sacrifice fly to plate Alonso for a 6-0 Reading lead.
Snodgrass (1-1) was tagged with his first loss of the season over 3 1/3 innings.  He was charged with six earned runs on eight hits, walked five and struck out two.
Nola (1-1) worked six scoreless innings to earn his first win of the year.  He permitted just four hits, walked one and struck out five.
Lefty Elvis Araujo worked a perfect seventh and handed it off to right-hander Nefi Ogando to finish the win.  He did work the final two frames, but conceded the only Richmond run in the eighth.  Reading got that run right back in the bottom of the inning off of righty Jose Casilla.
One bright spot in the ballgame for the Squirrels was Rodriguez.  Rodriguez worked 3 2/3 scoreless innings of relief behind Snodgrass.
Game two of the three-game series is scheduled for 6:05 p.m. on Saturday night at FirstEnergy Stadium.  RHP Kyle Crick (0-0, 2.25) will make the start for Richmond against LHP Jesse Biddle (1-0, 0.00) for Reading.  The Flying Squirrels Pregame Warmup will begin at 5:35 p.m. on Fox Sports 910 and FoxSportsRichmond.com.