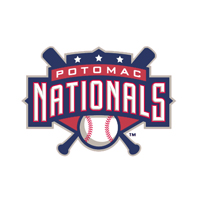 The Potomac Nationals (2-1, 0-1) could not muster up any offense despite a solid pitching performance from RHP Ian Dickson (L, 0-1) and the P-Nats' relievers in their Game One 2-0 loss to the Myrtle Beach Pelicans (3-1, 3-1). Pelicans 3B Edwin Garcia blasted a two-run home run to left field in the bottom of the second inning which was the difference in the game.
Myrtle Beach starter LHP Chad Bell (W, 1-0) kept the P-Nats' offense in check with six scoreless innings. He surrendered five hits and fanned two. Dickson, meanwhile, took the tough luck loss for Potomac. He struck out six over his five innings and gave up just five hits with the Garcia home run as the difference in the game.
The P-Nats had their opportunities to plate runs but could not come through on Saturday night. After a pair of singles from 2B Tony Renda and 1B Shawn Pleffner along with a walk by DH John Wooten to load the bases in the top of the first inning, SS Stephen Perez grounded into an inning-ending double play.
Potomac had a pair on base with two outs in the sixth, but Perez was retired with another groundout to third. The P-Nats hit into three double plays in the game and were 0-for-3 with runners in scoring position while leaving seven runners stranded.
The Nationals put together one final effort in the ninth. Wooten's one-out single and LF Randolph Oduber's two-out double put the tying run at second base against Pelicans' reliever Abel De Los Santos (Sv, 1). Mike McQuillan came on as a pinch hitter but grounded out on a hard hit ball to shortstop to end the game. The Oduber double was Potomac's only extra-base hit of the contest.
Potomac relievers RHP Pedro Encarnacion and RHP Travis Henke churned out three scoreless innings between them to keep the deficit at two. Each struck out two in their outings.
The Potomac Nationals Baseball Network, which is accessible at www.potomacnationals.com, will broadcast Game Two of the Mills Cup Championship Series on Sunday, September 7th. Potomac will send RHP Dakota Bacus (0-0, 0.00) to the mound while Myrtle Beach will toss LHP Victor Payano (0-0, 0.00). Broadcast coverage will begin with the P-Nats Leadoff Show at 5:50pm in preparation for the 6:05pm start.