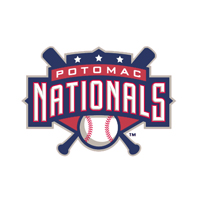 On Wednesday night at Pfitzner Stadium, the Potomac Nationals (60-68 Overall, 31-32 Home, 27-31 Second Half) rocked the Frederick Keys (61-68 Overall, 28-38 Road, 29-30 Second Half) 10-0 in their rubber match series finale.
The Nationals' triumph represented their 15th shutout victory this season (most in the Carolina League).
This was the final meeting between the Northern Division "Battle of the Beltway" rivals in 2015.
Potomac pounded out 11 base hits and scored in each of the first four innings of the game while Frederick scattered just six base knocks in the clash.
The Nationals jumped out to a 4-0 lead against Keys starter, LHP Luis Gonzalez (5-11), the losing pitcher, in the opening inning as Potomac 1B Grant DeBruin smacked an RBI double down the left field line that scored the leadoff single of CF Rafael Bautista. P-Nats RF Narciso Mesa, who collected four RBIs in the affair, cranked his second home run of the season, a three-run shot off the very top of the left field foul pole. Rehabbing Washington Nationals 2B Dan Uggla (back spasms), who ripped a first-pitch single into left field, and DeBruin were both summoned home on the blast.
Uggla went 1-for-4 with one run scored and one strikeout. Washington Nationals LF Tyler Moore, who like Uggla was down with Potomac on rehab (left ankle sprain), walked twice while going 0-for-2 with one run scored.
Potomac plated three runs in the 2nd inning to make it a 7-0 game courtesy of a throwing error committed by Frederick 1B Yaisel Mederos, a DeBruin RBI walk, and a sacrifice fly from Mesa.
The home club added one run in the 3rd on a run-scoring double raked by Bautista before the Nationals brought home two runs in the 4th on a pair of wild pitches hurled by Frederick RHP Dylan Rheault. Moore, who walked, came around to score along with DeBruin, who doubled.
Gonzalez lasted just 2.2 innings and gave up eight runs (six earned runs) on eight hits, two walks, and a wild pitch in suffering his 11th loss in '15.
Washington Nationals RHP Tanner Roark, who was optioned yesterday to Potomac, was stellar through 4.0 scoreless frames in his first career start for the P-Nats. Roark allowed three singles, walked no one, and struck out five batters.
Roark did not go the minimum 5.0 innings to qualify for the win. P-Nats RHP Brian Dupra (3-0) came out of the bullpen to capture his third win and stay undefeated in the circuit. Dupra tossed 4.0 scoreless innings and turned in a near-identical line to Roark's performance. Like Roark, Dupra fanned five and allowed three hits. Dupra walked only one.
Keys LHP Matt Taylor, RHP Stefan Crichton, LHP Donnie Hart, and LHP Cody Wheeler each dealt 1.0 innings of relief per arm and did not allow a run.
Nationals RHP Derek Self worked a perfect 9th inning to finish the game.
Tomorrow evening in Salem, VA, the Potomac Nationals begin their final road series of the 2015 regular season, a four-gamer against the Salem Red Sox (Boston) at Salem Memorial Ballpark.
The set opener begins with a 7:05pm first pitch on LewisGale Field.
Nationals RHP Austen Williams (4-4, 2.62) opposes Red Sox RHP Kevin McAvoy (9-9, 4.08) in series Game One.
The Potomac Nationals Baseball Network will carry live coverage of the game beginning with the "P-Nats Lead-Off Show" at 6:50pm before the live play-by-play at 7:05pm. P-Nats Gameday Audio on the Potomac Nationals Baseball Network is accessible at www.potomacnationals.com or with the TuneIn Radio App.