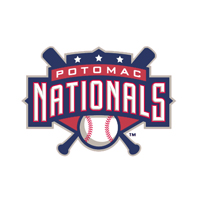 The Potomac Nationals (14-8, 7-4) earned a 6-5 walk-off victory in series Game Two over the Lynchburg Hillcats (9-14, 5-7) on Sunday afternoon at Pfitzner Stadium when 1B Shawn Pleffner lined an RBI single into center field in the bottom of the 9th inning.
This was the second last at-bat victory for the Nationals in 2014.
Potomac used an arsenal of 13 base hits to create their fourth three-game winning streak this season.
Lynchburg has not lost eight consecutive ballgames in a row.
washington nationals RHP Doug Fister made a rehabilitation start while nursing a strained right lat. This was Fister's first-ever regular season appearance for a washington nationals affiliate.
Fister threw 59 pitches and 42 offerings were in the strike zone. The power righty allowed three unearned runs on six base hits while fanning three and walking none.
Fister displayed his full four-pitch repertoire and told media members in the home clubhouse after his rehab appearance, "I felt really good. I felt strong…no pain, no discomfort. I felt loose and where I needed it to be."
"Stuff felt good…during rehab things you take it with a grain of salt…for me right now (high 80s) was an OK velocity. I'll take that to this point. I wanted to make sure I threw a few (breaking balls) and I felt like I threw them well," said Fister.
"I still need to work on the cutter, that's something that comes along at the end but the other three (pitches) were solid."
Two runs scored in the 1st inning for Lynchburg after 2B Jose Peraza reached on a dropped line drive error charged to SS Stephen Perez before 3B Kevin Ahrens ripped an RBI single through the hole at shortstop. CF Kyle Wren, who blooped a single up the left field line to get aboard, was plated on a passed ball that got off the catcher's mitt of C Pedro Severino.
Another run came in for the Hillcats in the 4th frame as 1B Edison Sanchez grounded a run-scoring single through a drawn-in infield defense to put the visitors up 3-0.
Both clubs scored in the 5th to yield a 4-1 score; the Nationals on an RBI sacrifice fly by CF Will Piwnica-Worms lifted to right field and the Hillcats on another RBI one-base knock to left field for Ahrens.
Hillcats RHP Greg Ross did not factor into the decision after going 6.0 innings and allowing two earned runs on four hits.
The winning pitcher, LHP Brett Mooneyham (2-1) finished the game en route to his second win of the season. Mooneyham gave up two earned runs on five hits in 5.0 innings.
The Nationals made it a 4-2 game in the 6th via a solo bomb for RF Brandon Miller over the left field fence, his second home run in as many games, and sixth overall on the 2014 season. All of his taters have come at home inside the confines of Pfitzner Stadium.
The contest became tied at 4-4 after the 7th inning stretch as the Nationals brought home a pair of runs against RHP Nate Hyatt (BS 2) who blew his second save. Severino ripped an RBI single into center field and LF Randolph Oduber punched an RBI single the other way into right field.
The P-Nats scored one run in the 8th to take a 5-4 lead off RHP Brandon Cunniff when Severino shot an RBI single into left field to bring home Perez, who singled back up the box.
In the top of the 9th, Peraza nailed a run-scoring single off Mooneyham to tie the game again (at 5-5).
In the last of the 9th against the losing pitcher, RHP Colby Holmes (0-1), 2B Khayyan Norfork led off with a one-base knock and advanced to second base on a balk. After DH Oscar Tejeda was intentionally walked, Pleffner went back up the middle to send Norfork to home plate to claim the victory.
Norfork has scored the game-winning run for both of the Nationals' walk-off wins in 2014.
Game Three will pit P-Nats RHP Dakota Bacus (1-1, 2.08) against Lynchburg RHP Jarrett Miller (0-2, 3.86) as a 7:05pm first pitch is scheduled.
Tomorrow, it will be another Dollar Monday sponsored by: The Washington Post as P-Nats fans will be able to purchase $1 general admission tickets and $1 hot dogs at the Potomac Nationals Ticket Office.
The Potomac Nationals Baseball Network, which is accessible at www.potomacnationals.com, will broadcast Game Three on Monday night beginning with the P-Nats Leadoff Show at 6:50pm before the live play-by-play at 7:05pm.