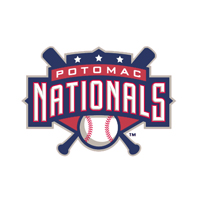 The Potomac Nationals (73-55, 35-24) took care of business in Game One to set the tone for a five-game set scheduled over the next three days by defeating the Wilmington Blue Rocks (62-67, 29-32) on Tuesday evening at Frawley Stadium by the final score of 3-1.
The P-Nats' magic number to clinch a second-half Northern Division Championship is now down to three games because the Lynchburg Hillcats (Atlanta Braves) also lost tonight.
Potomac owns a 7.0 game lead over Wilmington and Lynchburg while leading the Frederick Keys (Baltimore Orioles) by 7.5 games with eight contests left to play in the 2014 Carolina League regular season.
Nationals starting pitcher, RHP Dakota Bacus (6-6) evened his '14 win/loss ledger by dominating the Blue Rocks through 7.0 innings, which matched a season high. Bacus fanned a campaign-best eight batters, walked two men, unleashed one wild pitch, and allowed one earned run on five base hits.
Blue Rocks hurler, RHP Miguel Almonte was terrific as well with 4.0 scoreless frames under his belt when he left the mound. Almonte did not receive a decision despite striking out seven hitters. Almonte surrendered an infield single to P-Nats CF Isaac Ballou and one walk to 1B John Wooten.
After a scoreless stalemate amidst the pitchers' duel through four innings, Potomac plated a trio of runs against Wilmington RHP Yender Caramo in the 5th inning. Nationals C Pedro Severino cranked a two-run single into left field that grazed the leather of Blue Rocks SS Raul Mondesi. Potomac SS Stephen Perez raked into a 4-6-3 double play but RF Brandon Miller, who walked to get aboard, came into score. Despite not receiving a run batted in, Perez put the Nationals up 3-0.
The lone run for the Blue Rocks was summoned home on an RBI fielder's choice chopper to P-Nats 2B Tony Renda by Wilmington 2B Jack Lopez.
P-Nats LHP Bryan Harper gunned through a scoreless 8th and stranded a pair of runners. Harper allowed a walk to Mondesi and a sharp single to CF Bubba Starling. Harper struck out RF Brett Eibner on a crisp fastball on the outside black of home plate to retire the side.
Nationals fireman closer, RHP Gilberto Mendez (13 SV), earned his 13th save in save opportunity number 16 by shuting down Wilmington in the 9th. Mendez fanned 1B Frank Schwindel looking, got LF Cody Stubbs to fly out the other way, and induced 3B Ramon Torres into a sky out to center field to commence the contest in the Nationals' favor. Mendez stranded the single of C Cam Gallagher.
Tomorrow a doubleheader at 5:05pm inside Frawley Stadium will pit P-Nats LHP Matthew Spann (8-5, 4.16) against Wilmington RHP Brooks Pounders (0-0, 1.80) in Game One. Nationals LHP Kylin Turnbull (2-3, 5.02) will deal against a to be announced Blue Rocks starter in the nightcap.
A twin bill is necessary to make up a postponed game due to rainfall from July 3rd.