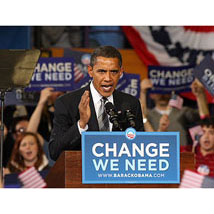 Remember the old Bill Clinton campaign mantra – it's the economy, stupid? Yeah.
"There's a very good chance Barack Obama would lose if he had to stand for reelection today," said Dean Debnam, president of Public Policy Polling. "This is his worst poll standing in a long time, and he really needs the economy to start turning around."
This from Debnam on the heels of the release of a new nationwide poll that has Republican Mitt Romney even-steven with Obama in the early walkup to the 2012 presidential race. Romney and Obama were tied in the PPP survey at 46 percent each.
Romney, significantly, leads the president among independents by nine points, at 46 percent-to-37 percent, in the polling.
Obama, just as significantly, still holds comfortable leads over his other top potential Republican opponents – ranging from a seven-point lead on Michele Bachmann, a nine-point lead on Tim Pawlenty, a 12-point lead on Herman Cain and a 16-point lead on Sarah Palin.